Kara Hiragana (韓ひらがな) & Kara Katakana (カラカタカナ)
Kara Hiragana were invented by Bae Jun and are additional symbols, based on Japanese Hiragana, used to write Korean. Since he started learning Japanese he has devised numerous pseudo-kana symbols just for fun. He used them as a secret code for keeping his diary for a while, but in the early stages each character did not match a specific sound.
In 2004 he created some additional symbols, based on the Japanese mixed writing system, in order to write Korean with accuracy. He has also devised Kara-Katakana, a modified version of katakana which makes the writing of other foreign languages easier using the Korean phonological structure.
Kara Katakana uses mainly diacritics added to existing kana instead of new characters. Like Katakana, it is used for the transcription of foreign words and for emphasis.
The character 韓 is pronounced kara, kan or han in Japanese and means Korea or Korean, in Mandarin and Korean it's prounced han and means the same.
Notable features
Type of writing system: syllabary
Direction of writing: left to right
Hiragana symbols are used as in Japanese, except:
ち [ti] and つ [tu] not chi and tsu
ゑ [we] and ゐ [wi] not e and i
V sounds are: わ" va ゐ" vi う" vu ゑ" ve を" vo (+dakuten)
F sounds are: わº fa ゐº fi うº fu ゑº fe をº fo (+handakuten)
L sounds are: ら" la り" li る" lu れ" le ろ" lo (+dakuten)
Hentaigana, alternative forms of the standard kana symbols no longer used in Japanese, are used in Karagana-mixed writing system for Korean.
Kara Hiragana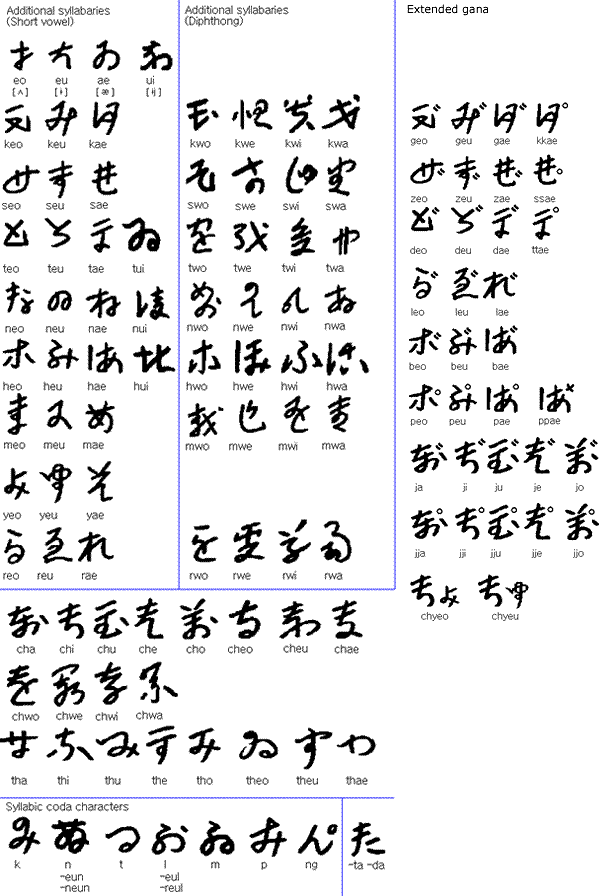 Kata Katakana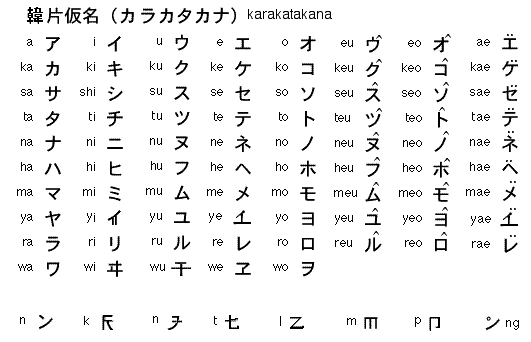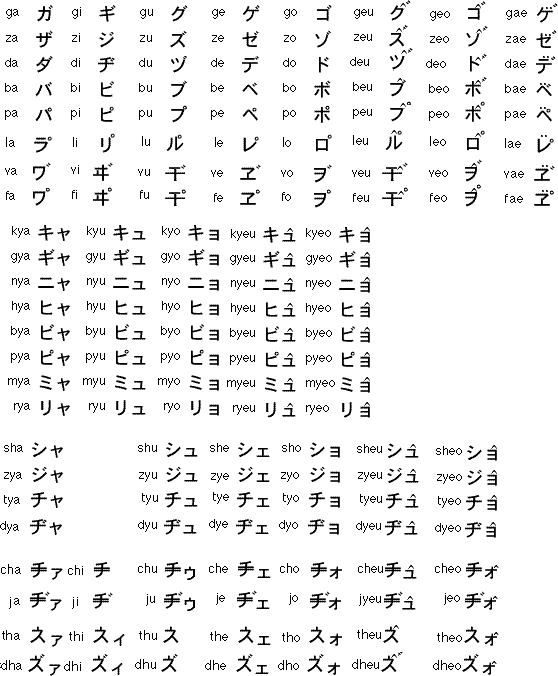 Sample text in Kara Hiragana

Sample text in Kara Hiragana mixed with hanja

Sample text in Kara Katakana

Original Korean text
Transliteration
Modeun Ingan-eun Tae-eonal ttaebuteo Jayuroumyeo Geu Jon-eomgwa Gwonrie Iss-eo Dongdeunghada. Ingan-eun Cheonbujeog-euro Iseong-gwa Yangsim-eul Bu-yeobad-ass-eumyeo Seoro Hyungje-ae-ui Jeongsin-euro Haengdongha-yeo-yahanda.
Translation
All human beings are born free and equal in dignity and rights. They are endowed with reason and conscience and should act towards one another in a spirit of brotherhood.
(Article 1 of the Universal Declaration of Human Rights)
If you have any questions about Kara Hiragana or Kara Katakana, you can contact Bae Jun at: shaxar@hanmail.net
Other scripts invented by Bae Jun
Arcography, Byeokrando, Emoel gugu, Kara Hiragana, Korillic, Kovrit, Naljeogigeul (alphabetic), Naljeogigeul (syllabic), Seumul, T-8