Amis (Pangcah)
Amis or Ami is a member of the Formosan group of Austronesian languages. It is spoken along parts of the east coast of Taiwan by about 180,000 people, particularly between Hualien and Taitung. There are a number of different dialects of Amis, including Nataoran, Tavalong-Vata'an and Middle and Southern dialects. Some dialects are divergent enough to be considered different languages. The language is known as 阿美語 (āmĕiyŭ) in Chinese.
Amis pronunciation (Central dialect)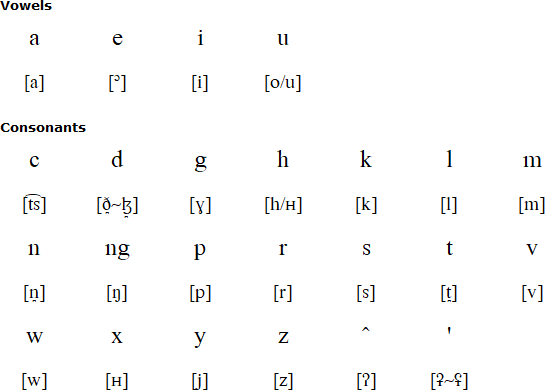 Note: I cannot find information about the alphabetical order of the Amis letters.
Download an alphabet chart for Amis (Excel)
Sample text in Amis
Misanga' a mitilid tonini a cudad oha papadama to tamdaw mickiw to Fangcalay Cudad. Oniya cudad wanga'ay samaanen a misakadadmak hani? Nga'ayay toolen iso koniya sapakafana' niyam a midmak: itini satapangan no ccaccay fdengan iraay ko pina a salicay. I larikol no ccaccay salicay iraay ko fanko, pa'ihkalay konini to itiraay kora ca'of tora sinael. Nga'ayay salakaten minengneng kora salicay, saharateratengen. Dotoc to 'osien kora ccaccay sinael, fohaten ko Fangcalay Cudad no miso minengneng kora sinael. Marahci iso mi'osi ko ccay fdengan ikol i, liyawen minengneng kora salicay, romalen to samanay ko ca'of no Fangcalay Cudad toniya salicay. Ma^min iso mi'osi koniya cudad ikol i, liyawen miromal ko kihcod a salicay
Source: http://www.watchtower.org/ai/rq/article_00.htm
Information about Amis | Tower of Babel in Amis
Links
Information about the Amis language
http://en.wikipedia.org/wiki/Amis_language
http://language.psy.auckland.ac.nz/austronesian/language.php?id=350
Parts of the New Testament in Amis
http://language.psy.auckland.ac.nz/austronesian/language.php?id=350
Formosan languages
Other languages written with the Latin alphabet