Awing (Mbwe'wi)
Awing is a Southern Bantoid language spoken by about 19,000 people in Mezam division of North West Province of Cameroon, particularly in the village of Awing-Bambaluwe.
Related languages include Bafut, Bambili-Bambui, Kpati, Mendankwe-Nkwen, Ngemba and Pinyin.
Awing pronunciation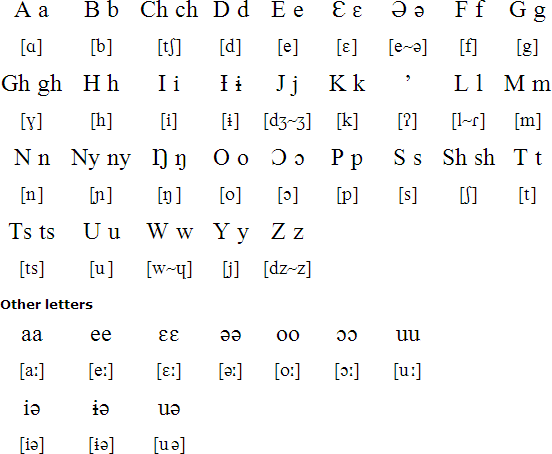 Notes
Awing is a tonal language with tones indicated as follows: high and mid-high tones are indicated by an acute accent: á = /a˥/ and /a˦/; a low tone is indicated by a grave accent: à = /a˩/; other tones are indicated as follows: ǎ = /a˩˦/ or /a˩˥/, and â = /a˦˩/ or /a˥˩/.
Download an Awing alphabet chart (Excel)
Details of Awing provided by Michael Peter Füstumum
Links
Information about Awing
https://en.wikipedia.org/wiki/Awing_language
https://de.wikipedia.org/wiki/Awing
https://fr.wikipedia.org/wiki/Awing
http://www.ethnologue.com/18/language/azo
http://www.silcam.org/documents/AwingOrthography2005.pdf
Bantoid languages
Other languages written with the Latin alphabet