Yemba (Yɛmba / Dschang)
Yemba is a member of the Grassfields branch of Niger-Congo languages and is spoken in the Western Province of Cameroon by about 300,000 people. There are five main dialects of Yemba, Central Yemba, Eastern Yemba, Western Yemba, Southern Yemba and South Eastern Yemba.
Yemba alphabet and pronunciation
The Yemba alphabet was developed by Maurice Tadadjeu, co-creator of the General Alphabet of Cameroon Languages, and Steven Bird, who between them produced a French-Yemba dictionary.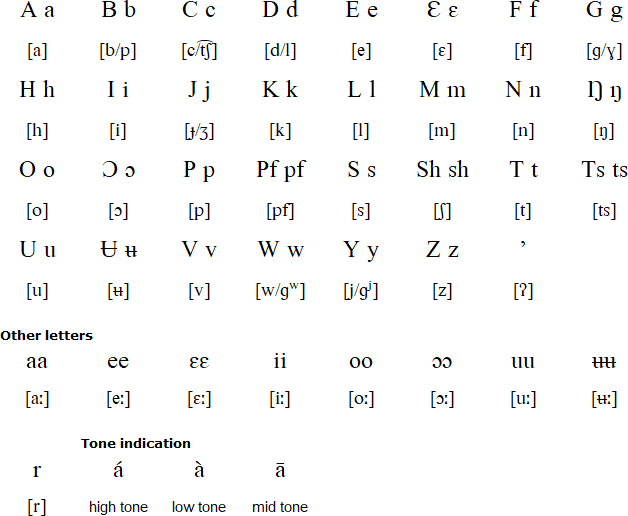 Sample text in Yemba
Mbapndo a le gɛ, yí fu gɔ á náŋá, é cʉ̄' wɔ ziŋ á zoko é gɔ.
Translation
The rat had said that he can not fully enjoy his life for daytime hikers.
Source: http://eveilyemba.org/les-proverbes-yemba/proverbes-inspires-par-le-monde-animal/
Details of Yemba supplied by Michael Peter Füstumum
Links
Information about the Yemba language
https://en.wikipedia.org/wiki/Yemba_language
https://www.ethnologue.com/language/ybb
http://eveilyemba.org/langue-yemba/
ftp://ftp.cis.upenn.edu/pub/sb/papers/dictionary/dictionary.pdf
Altantic-Congo languages
Bandial, Efik, Ibibio, Kambari, Laalaa, Mankanya, Mbum, Noon, Supyire, Yemba
Other languages written with the Latin alphabet