Jur Modo
Jur Modo is a Central Sudanic language spoken in South Sudan by about 100,000 people, mainly in the region of Mundri in Western Equatoria State in the south west of the country. It is also known as Jur or Modo. Dialects include Lori, Modo, Wira and Wetu.
Jur Modo alphabet and pronunciation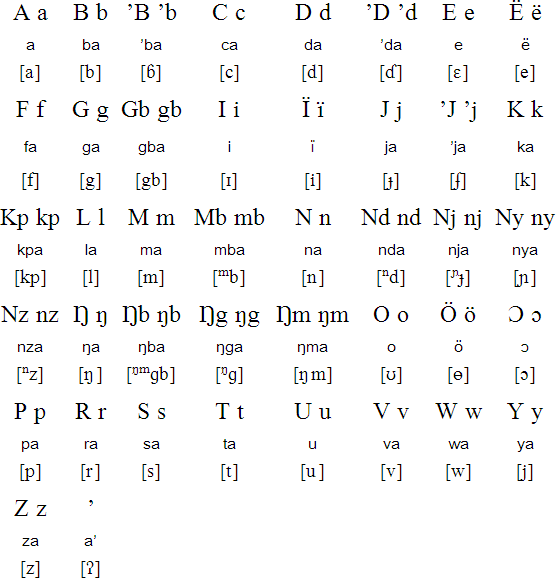 Download an alphabet chart for Jur Modo (Excel)
Information compiled by Michael Peter Füstumum
Sample text
1. Di bi tisaki mo Bɔko'ba o'ba mïtɔrɔ ni ti dɔliŋɔ. 2. Tine dɔliŋɔ ŋgï du tara kinza bi tɔ mo, mandölu ma dɔ kiteli na kutu'bö dɔ matïr¨í 'ba mini. Kina Nyï Kɔtɔ Laka 'ba Bɔko'ba na koloma rɔ tiliŋgere kebe bi dɔ mini. 3. Tine Bɔlo'ba iya te, "I'di bi kɔpɔ këdï." Kina bi kɔpɔ kɔdɔ ŋgï. 4. Bɔlo'ba ti mï këyï gɔ mandölu. 5 Bo ïdëkï bi kɔpɔ rɔ bi këzë kina bo ïdëkï mandölu nima ŋgï rɔ korɔndɔ. Tine na dɔkɔpiyari kiteli dɔŋbɔ kuyï rönï. Ama na rɔ tö'dö ma dɔgba.
Source: http://worldbibles.org/language_detail/eng/bex/Jur+Modo
Links
Information about the Jur Modo language
https://en.wikipedia.org/wiki/Jur_Modo_language
https://fr.wikipedia.org/wiki/Modo_(langue)
http://www.ethnologue.com/18/language/bex
https://www.sil.org/system/files/reapdata/10/06/46/100646256099282892829790816212446104791/OPSL_9.pdf
Nilo-Saharan languages
Acholi, Alur, Aringa, Avokaya, Baka, Bari, Beli, Bongo, Dholuo, Dinka, Dongotono, Fur, Jur Modo, Kanuri, Karamojong, Keliko, Lotuko, Lokoya, Lopit, Lugbara, Maasai, Ma'di, Morokodo, Moru, Narim, Nuer, Olu'bo, Shilluk, Toposa, Wa'di, Zarma
Other languages written with the Latin alphabet