Ma'di (Ma'diti)
Ma'di is a Central Sudanic language spoken in South Sudan and Uganda by about 320,000 people, mainly in Magwi County in South Sudan, and Adjumani and Moyo districts in Uganda.
Ma'di is mutuallly intelligible with Olu'bo, Lugbara, Moru, Avokaya, Kaliko and Logo.
There are a few publications in Ma'di, including translations of religious texts and a quarterly paper. There are also some broadcasts in Ma'di on Radio Uganda.
Ma'di alphabet and pronunciation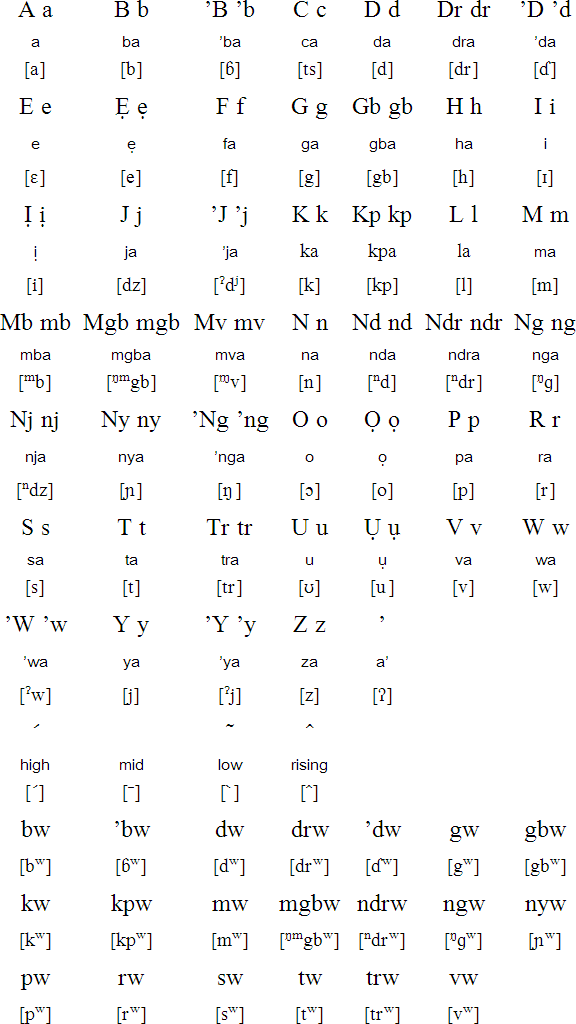 Information compiled by Michael Peter Füstumum
Links
Information about the Ma'di language
https://en.wikipedia.org/wiki/Ma'di_language
http://www.ethnologue.com/18/language/mhi
https://www.sil.org/system/files/reapdata/10/06/46/100646256099282892829790816212446104791/OPSL_9.pdf
Nilo-Saharan languages
Acholi, Alur, Aringa, Avokaya, Baka, Bari, Beli, Bongo, Dholuo, Dinka, Dongotono, Fur, Jur Modo, Kanuri, Karamojong, Keliko, Lotuko, Lokoya, Lopit, Lugbara, Maasai, Ma'di, Morokodo, Moru, Narim, Nuer, Olu'bo, Shilluk, Toposa, Wa'di, Zarma
Other languages written with the Latin alphabet