Tarahumara (Rarámuri ra'ícha)
Tarahumara is an Uto-Aztecan language spoken by about 70,000 people in the Mexican state of Chihuahua. Tarahumara is most closely related to the Guarijío language, which is spoken in the same region.
Tarahumara has a number of dialects, however linguists do not agree on how to classify them. There are thought to be up to five dialects: Western, Central, Northern, Southeastern and Southwestern. The most spoken of which is the Central dialect.
Tarahumara is used in primary schools and in local government and business. There are also some Tarahumara programmes on a local radio station. Only about 1% of Tarahumara speakers can read and write their language, and 20% are literate in Spanish.
Tarahumara pronunciation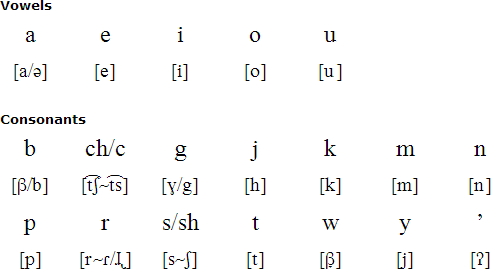 Notes
a is pronounced /ə/ word-initially and between a stressed close vowel and the glottal stop
s can be pronounced /ʃ/ before i and u
ch can be pronouced /t͡s/ before a, o and u
Sample texts
Lord's Prayer in Central Tarahumara
Tami Non guami repá reguegachi atiame: tá cheiquichi Ju, màpu müreguéga repá asagá mu atinqui: Jená ibi, guichimòba quima neogarae mu naguára; mu llelá litae guichimòba mü llolára guali mü cü mollenara, ini, repá reguegachi. Amen Jesus.
Source: http://www.christusrex.com/www1/pater/JPN-tarahumara-central.html
Lord's Prayer in Northern Tarahumara
Hono tami nigüega mamu ati Crepa: guebrucá nilrera que inubreguá, Tami nagüibra que munetebrichi, nilrelra que mu el rabrichi gená, güichimoba: mapu breguegal repa. brami goguáme epilri bragüe brame jipeyá, brami güecagüe, mata igui güicá mapu bregüega brame gé. güecagüe mapu brami güique ta no bri brami guichavari que chitichí natabrichi. habri brami guaini mane brisiga equimé. Amen Isusi.
Source: http://www.christusrex.com/www1/pater/JPN-tarahumara-northern.html
Links
Information about Tarahumara
https://en.wikipedia.org/wiki/Tarahumara_language
http://www.native-languages.org/tarahumara.htm
http://www.ecoalternativetours.com/tarahumara-people/
Tarahumara dictionary
http://www.sil.org/resources/archives/10966
Tarahumara phrases
http://www.questconnect.org/tara_dictionary.htm
Uto-Aztecan languages
Comanche, Hopi, Luseño, O'odham, Nahuatl, Northern Paiute, Pipil, Shoshone, Tarahumara, Tepehuán, Timbisha, Tongva, Yaqui
Other languages written with the Latin alphabet