Timbisha (Nümü nangkawih / Sosoni nangkawih)
Timbisha is a member of the Central Numic branch of the Uto-Aztecan language family. It was formerly spoken in Death Valley and Owens Valley in eastern California in the USA. There are still a small number of people who speak the language: 20 in 2007, mainly in Death Valley. The language is closely related to Shoshoni and Comanche.
The language is also known as Panamint or Koso, and the native names for it are Nümü nangkawih and Sosoni nangkawih. The name Timbisha is an Anglicized version of Tümpisa [tɨmbiʃa], which means "rock paint" and is a native name for Death Valley, which is has good sources of red ochre.
The Timbisha tribe used to call themselves Shoshone, but the ones in Death Valley are now federally recognised as the Death Valley Timbisha Shoshone Band of California. There are also Timbisha people in Bishop, Big Pine, Darwin, Independence and Lone Pine communities in California, and in the Beatty community in Nevada.
Timbisha pronunciation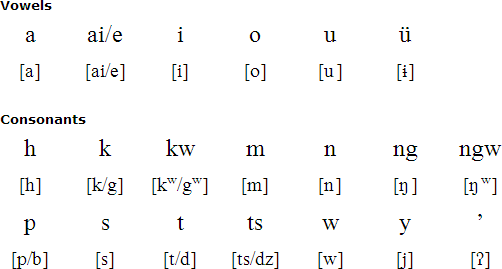 Notes
The /h/ sound has totally or partially disappeared from some varieties of Timbisha.
p, t, k, kw and ts are voiced between vowels
Information about Timbisha | Timbisha numbers
Links
Information about Timbisha
https://en.wikipedia.org/wiki/Timbisha_language
https://es.wikipedia.org/wiki/Idioma_timbisha
https://www.ethnologue.com/language/par
http://linguistics.berkeley.edu/~survey/languages/panamint.php
http://www.native-languages.org/panamint.htm
Uto-Aztecan languages
Comanche, Hopi, Luseño, O'odham, Nahuatl, Northern Paiute, Pipil, Shoshone, Tarahumara, Tepehuán, Timbisha, Tongva, Yaqui
Other languages written with the Latin alphabet