Yucuna (Jukuna)
Yucuna is an Arawakan language spoken in the south of Colombia by about 6,200 people. It is spoken in the Department of Amazonas along the Mirití-Paraná River, a tributary of the Caquetá River.
Yucuna alphabet and pronunciation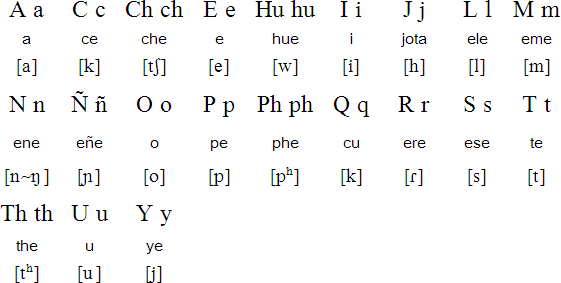 Note
' [ʔ] is not a letter of the alphabet.
Sample text (The Lord's Prayer)
Huara'apá, je'echú chu i'imacare. Palájne'eque huani picá. Piyuqueja ina'uqué huacára'ajeri penaje picá. Huahuata caja pi'imacá Huahuacára'ajeri. Huahuata caja ina'uqué la'acá maare eja'ahuá chu nacaje pihuátaca que, je'echú chu nala'acá que caja. Pa'á huajló a'ajnejí chuhuajá, huajñácaloje penaje. Pamó huachaje pu'uhuaré huala'acare liyá, huamaco ajopana chaje chapú nala'acare huecá liyá que caja. Piyuríniya nacaje a'acá huame'é rijluhua, huala'acá piyá pu'uhuaré raú. Pi'imatá caja huecá pu'uhuaré la'ajeño huacára'ajeri liyá. Huahuacára'ajeri huani picá. Picá hue'epiri piyuqueja nacaje la'acana nacojé. Matajnaco pi'imajica. Caja queja pi'imajica palánija.
Source: https://www.bible.com/es/bible/1101/mat.6.ycnnt
Details of Yucuna provided by Michael Peter Füstumum
Information about Yucuna | Tower of Babel
Links
Information about Yucuna
https://en.wikipedia.org/wiki/Yucuna_language
https://es.wikipedia.org/wiki/Idioma_yucuna
https://fr.wikipedia.org/wiki/Yucuna_(langue)
http://www.ethnologue.com/language/YCN
http://www.native-languages.org/yucuna.htm
http://www-01.sil.org/americas/colombia/pubs/34818.pdf
Arawakan languages
Arawak, Asháninka, Ashéninka, Baniwa, Caquinte, Garifuna, Machiguenga, Nanti, Tariana, Wayuu, Yucuna
Other languages written with the Latin alphabet