Machiguenga (Matsigenka)
Machiguenga is an Arawakan language spoken by about 6,200 people in the Cusco and Madre de Dios provinces of Peru in the Urubamba River basin and along the Manu River.
Machiguenga alphabet and pronunciation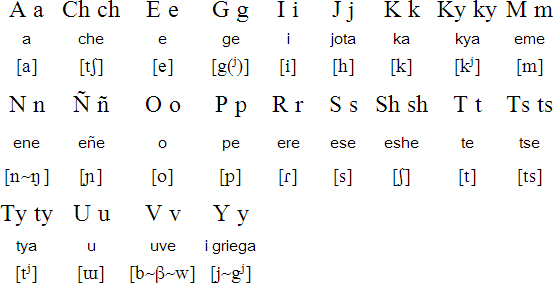 Notes
G tends to be pronounced [gʲ] before e and i.
K tends to be pronounced [kʲ] before e and i.
Ky appears only before a. It is usually pronounced [gʲ] after n.
P is usually pronounced [b] after n.
T is usually pronounced [d] after n.
Ts is usually pronounced [dz] after n.
' [ʔ] is used mainly in interjections and onomatopoeia and is not a letter of the alphabet.
Sample text (The Lord's Prayer)
Apa Tasorintsi timatsirira enoku, nokogaigake impinkatsatasanoigakempira maganiro matsigenkaegi inkematsatasanoigakempira impegaigakempira Igoveenkariegite. Nokogaigake ontsatagakenkanira aka kipatsiku magatiro pikogakerira viro onkañotakempara otsatagaganira kara enoku. Pimpaigakenara omirinka nogaigakemparira.Pimagisantaerora novetsikaigakerira terira onkametite gara pikenkiagaiganaro. Ariotari nokañoigakari naroegi nomagisantaigakero yovetsikaigakerira tsipereakagaigakenarira tera nonkenkiagaigeri. Pimpampogiakoigakenara ganiri opokashigeigana garira noshintsitashigeigiro. Onti nokogaigake pishintsitagaigakenara ganiri yagaveaigaana kamagarini inkañovagetagaigaenara.
Source: http://www.scriptureearth.org/data/mcb/PDF/41-MATmcb-web.pdf
Details of Machiguenga provided by Michael Peter Füstumum
Information about Machiguenga | Tower of Babel
Links
Information about Machiguenga
https://en.wikipedia.org/wiki/Machiguenga_language
http://www.ethnologue.com/18/language/mcb
http://www-01.sil.org/americas/peru/pubs/mcbDIC-press.pdf
Arawakan languages
Arawak, Asháninka, Ashéninka, Baniwa, Caquinte, Garifuna, Machiguenga, Nanti, Tariana, Wayuu, Yucuna
Other languages written with the Latin alphabet