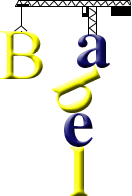 The Tower of Babel (Genesis 11: 1-9)
Western Soninke
Baabila soororon tagande
Waxati dangi, ɲiiɲe ke su ɲi xan baane ya koono, sefe kitti baane.
Koota yogo,soron forogonto gilli kinbakkan ŋa, i da baran xullu xoore wari Baabila ɲiiɲen ŋa, ixosi taaxu no.
I ti me da: «O na tuufan katu n'a biyi.» Ken ŋa, tuufan da gidinsigiransiro i da, godoronjin da doorinsigiran siro i da.
Ken falle, i ti: «O na duudandebetaga, na soorono gille sigindi a yi, a tonben gaa kiɲene kanmun ŋa. Ken ŋa, o na ɲatoxonto yi, kuudo o n maxa sanqi do ɲiiɲen kaaran su yi.»
Fi falle, Tunka duumanten yanqa bakka kanmun ŋa, nan ri debe ke faayi, a dosoorono gille ke be haadamarenmun ga d'a taga.
A ti du da: «Ku faayi ga kafi me yinan ɲa jama baane, i wa xan baane koono, ke faayi i gollen joŋaarun ya yi. Saasa,foofo ra ntax'i kaaɲana i golle danbe su ɲanŋen ŋa.
Ken ŋ'o n yanqa, o n'i xanne keɲaxami, kuudo i n kori me faamunu.»
Ken noxo du, Tunka duumanten d'i sanqibakka non ŋa do ɲiiɲen kaaran su yi, ken ga ɲa, i tuuma debe ke taganden ŋa.
Ke ya saabuda, debe ke gaa xiriini Baabila, [a wure ga ni: «ɲaxami»] baawo Tunkaduumanten da haadamarenmen xannen ɲaxami non ya yi. Non ya ni xadi, a ga d'isanqi do ɲiiɲen kaaron su yi.
Source: Joppaye. Genesis in Western Soninke. Bamako, Mali.
Eastern Soninke
Bɑɑbilɑ tɑngɑndi gille
Wɑxɑti yogo, ɲiiɲen su ɲi xɑn bɑɑne, sefe kitti bɑɑne. Kootɑ yogo, soron feregonte bɑkkɑ do kinbɑkkɑn ŋɑ, i dɑ birɑn xulli xoore wɑri Bɑɑbilɑ ɲiiɲen kɑnmɑ, i xusɑ nɑn tɑɑxu no.
I ti me dɑ: «O nɑ tufɑn kɑtu n'ɑ biyi ti yinben ŋɑ.» Ken di, tufɑn dɑ gidinsigirɑn sur'i dɑ, gudoronjin dɑ doorinsigirɑn sur'i dɑ.
Ken fɑlle, i ti: «O nɑ debe tɑg'o yinme dɑ, nɑ tɑgɑndi gille sigind'ɑ di, ɑ tonben gɑ wɑ kiɲene kɑnmun ŋɑ. Ken biren ŋɑ, o nɑ ɲɑ toxonto yi, kuudo, o n mɑxɑ sɑnqi do ɲiiɲen tɑtten su yi.»
Fi fɑlle, Tunkɑ duumɑnten yɑnqɑ bɑkkɑ kɑnmun di, nɑn ri deben fɑɑyi, ɑ do tɑgɑndi gille be hɑdɑmɑrenmun gɑ d'ɑ dɑbɑri.
Ken di, ɑ ti du dɑ: «Ku fɑɑyi gɑ kɑfu me yi nɑn ɲɑ jɑmɑ bɑɑne yɑ yi, i wɑ xɑn bɑɑne yɑ konni, ke fɑɑy'i gollen joŋɑɑdun ŋɑ. Sɑɑsɑ, fo wo fo rɑ ntɑx'i kɑbɑn'i golle dɑnbe su ɲɑɑye yi.
Ken di, o n yɑnqɑ, o n'i xɑnne ke kolonso, yell'i nɑn mɑxɑ me fɑɑmu.»
Ken biren ŋɑ, Tunkɑ duumɑnten d'i sɑnqi bɑkkɑ non ŋɑ do ɲiiɲen tɑtten su yi, ken gɑ ɲɑ, i tuumɑ bɑkkɑ deben tɑgɑnden ŋɑ.
Ke yɑ sɑɑbudɑ, deben gɑ wɑ xilli Bɑɑbilɑ, [ɑ wure gɑ ni: «kolonso»], bɑwo Tunkɑ duumɑnten dɑ hɑdɑmɑrenmen su xɑnnen kolonso non yɑ yi. Non yɑ ni xɑhɑnɑ, ɑ gɑ d'i sɑnqi do ɲiiɲen tɑtte su yi.
Source: Joppɑye nɑn giri Tɑwureetɑ. Genèse en lɑngue soninké-est. Genesis in Eastern Soninke. Bamako, Mali.
Contributed by Wolfgang Kuhl
Information about Soninke | Numbers | Tower of Babel
Tower of Babel in Mande languages
Boko, Busa, Dyula, Kpelle, Maninka, Mixifore, Soninke, Susu, Toma, Yalunka
Other Tower of Babel translations
By language | By language family
[top]
---

Why not share this page:

If you like this site and find it useful, you can support it by making a donation via PayPal or Patreon, or by contributing in other ways. Omniglot is how I make my living.
Note: all links on this site to Amazon.com
, Amazon.co.uk
and Amazon.fr
are affiliate links. This means I earn a commission if you click on any of them and buy something. So by clicking on these links you can help to support this site.
Get a 30-day Free Trial of Amazon Prime (UK)
If you're looking for home or car insurance in the UK, why not try Policy Expert?
[top]