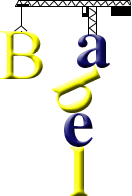 The Tower of Babel (Genesis 11: 1-9)
Jukuna (Yucuna)
Méqueca ina'uqué queño'ocá que'iyapejé huani napura'acó chu pura'acano yucuna marí:
Eja'ahuá ja'acó junápeje ejomi Noé, riyajalo, riyani, ri'irinuna, queleja i'imaño eja'ahuá chu piño. Ehuá richaje, richaje que íqui'irunaca Noé laquénami i'imajica. Caja ehuaja cajrú ina'uquena i'imacá piño eja'ahuá chu rehuá. Caja cajrú cha ina'uqué ñaté a'ajícono, aú íqui'iruna ne'emajica.
1. Rihuacajé pajluhuaja puráca'aloji chuja calé napura'acono piyuqueja.
2. Caja camú jeño'ocá ejo pumitá i'imacaño jácho'oño reyá i'imacá, iphaño Sinar te'eré ejo. Cajruni pu'uteni i'imacá rehuá. Re nayuró i'imacá.
3. E caja re'iyajé que nemacá pajlocaca: —Chuhuaca huala'ajica te'erí taca'átacanami. —Je —que nemacá. E reyá a'ajná ño'ojó nala'á pají te'erí taca'átacanami aú, uncá jipa aú calé. Mapa caje aú nachúta'ata ricá. Marí caje aú nala'á pají.
4. Ejomi napura'ó piño pajhua'atéchaca pajimila la'acana nacú. Nemá pajlocaca: —I'ijná huala'achí pajimila. Re'iyá huala'ajé pajluhuaja pají yenoje huani, riphácaloje je'echú chojé penaje. Ajopana amájica ee ricá, cajrú ina'uqué quemájica huanacu: "¡Yee meque palá huani nala'acá pají yenoje!" Marí que huala'ajica huatamáca'ataco piyá paliyácaca —que nemacá pajlocaca. ("Quechíra'aquejami" que quemacánaca rií Babel napura'acó chu.)
5. E caja naqueño'ó pajimila la'acana. Naqueño'ó caja yenoje pají la'acana re. Tupana amari méqueca najápaca pajhua'atéchaca,
6. raú ripechu i'imá: "Pajluhuaja queja necá pajhua'atéchaca; pajluhua caja napuráca'alo, ñaqué i'imacale najapa pajhua'atéchaca marí que. Uncá meque la'ajé iná quemalajla najló nala'acá piyá napechu nacú ri'imacá que.
7. Palani huephaca nanacu, huaquechíra'acaloje najló napuráca'alo paliyácaca penaje, nema'acá piyá papuráca'alochaca", que Tupana i'ijnataca ripéchuhua.
8-9. E caja ricá pajimila e Tupana quechíra'ari piyuque ina'uquena, eja'ahuá chu i'imacaño, puráca'alo. Rejomi natamáca'ato paliyácaca, ne'ejnacáloje piyuque eja'ahuá chuhuá penaje. Raú nayurí pajimila la'acana. Marí que ri'imacale najló, na'á ricá pajimila ií Babel.
Source: Tupana Puraca'alo Mari. Porciones del Antiguo Testamento en Yucuna de Colombia. La Liga Bíblica, 2000.
Contributed by Wolfgang Kuhl
[top]
---

Why not share this page:

If you like this site and find it useful, you can support it by making a donation via PayPal or Patreon, or by contributing in other ways. Omniglot is how I make my living.
Note: all links on this site to Amazon.com
, Amazon.co.uk
and Amazon.fr
are affiliate links. This means I earn a commission if you click on any of them and buy something. So by clicking on these links you can help to support this site.
Get a 30-day Free Trial of Amazon Prime (UK)
If you're looking for home or car insurance in the UK, why not try Policy Expert?
[top]