Quenya
Quenya is a language invented by J.R.R. Tolkien and used in his books, including The Hobbit and The Lord of the Rings. Quenya is also known as Qenya or High-Elven, and its grammar is similar to Finnish, with some similarities to Greek and Latin. The phonology is based on Finnish, with lesser influences from Latin, Italian and Spanish. Tolkien compiled the "Qenya Lexicon", his first list of Elvish words, in 1915 at the age of 23, and continued to refine the language throughout his life.
Within Tolkien's Middle Earth, Quenya is the most prominent language of the Amanya branch of the Elvish language family.
Tengwar script
Tolkien also created a number of different alphabets to write his languages - Tengwar, or Feanorian letters, is the one which appears most frequently in his work, and is used to write Quenya, and other languages he invented, such as Sindarin and Black Speech. It has can also be used to write English and other languages.
Notable features
Direction of writing: left to right in horizontal lines.
Tengwar is written is a number of different ways known as "modes". For example there is a Quenya mode, a Sindarin mode and several English modes. The phonetic values of the consonants (tengwa) and the ways vowels are indicated varies from mode to mode.
Vowels are indicated by diacritics (tehtar) which appear above the consonant which precedes them (in Quenya mode) or above the consonant which follows them (in Sindarin mode). When vowels stand on their own or come at the beginning of a word, the diacritics appear over a special vowel holder. Long vowels are always attached to a vowel holder.
Consonants are doubled by adding a wavy line below them.
When followed by a vowel, the letters /s/ /ss/ and /r/ are written with the tengwa silme nuquerna, esse nuquerna and rómen respectively. Otherwise these letters are written with the tengwa silme, esse and óre.
When the letter /s/ follows another consonant it can be written with a little downward hook.
Tengwar: Quenya mode
Consonants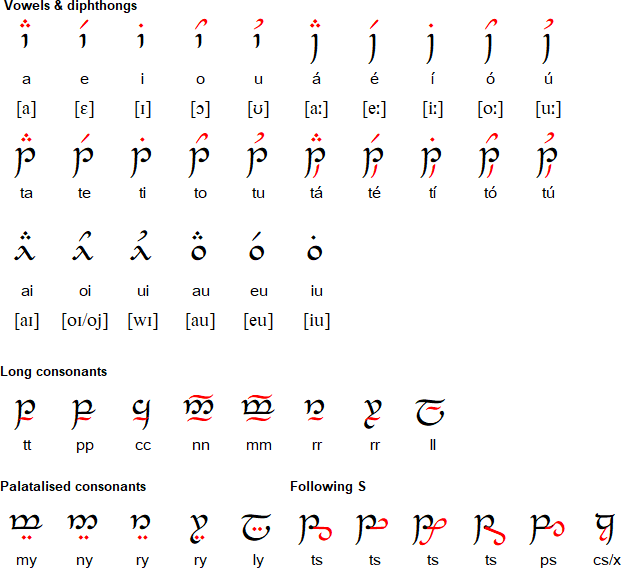 Notes
The short vowels symbols (tehtar) are written on the short vowel carrier (telco) when they appear before a consonant. When after a consonant they appear on the consonant that preceeds them.
Long vowels are either written with the long vowel carrier (ára) or on the consonant that preceeds them with a vertical line underneath
The letter hyamen is used for initial h and hy sounds
The letter halla is only used in front of lambe and romen to write hr and hl sounds.
The letters yanta and úre are only used for diphthongs
Silme nuquerna and áze nuquerna are used when a vowel is attached above them rather than silme and áze
Punctuation

Sources: https://en.wikibooks.org/wiki/Quenya/Tengwar
https://en.wikipedia.org/wiki/Tengwar
Numerals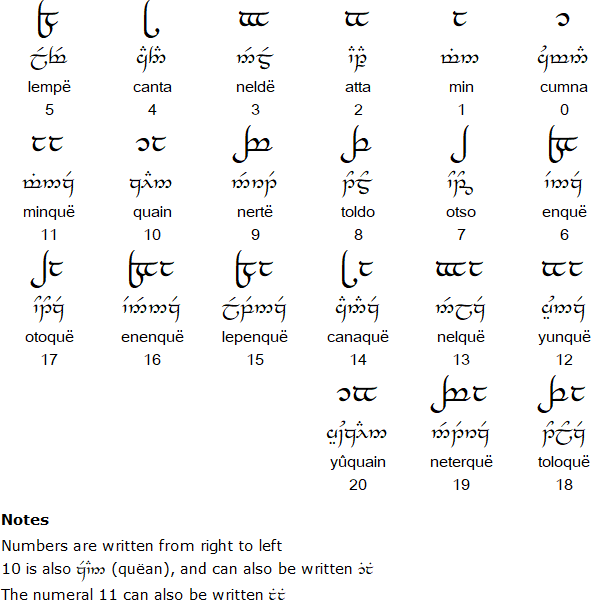 Sources: https://en.wikibooks.org/wiki/Quenya/Numerals, https://www.tecendil.com
Sample texts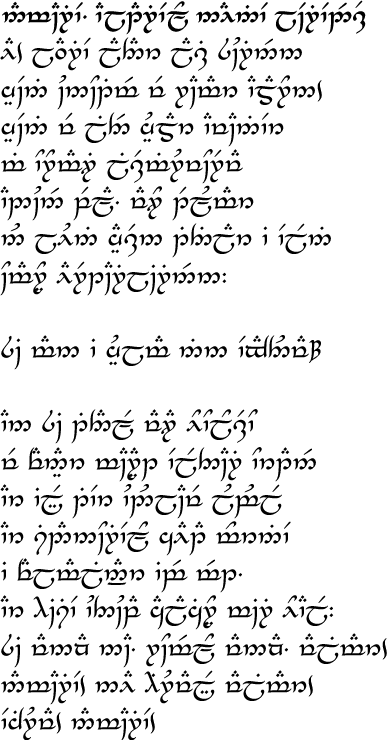 Namárië. Altariello Nainië Lóriendessë
Ai! laurië lantar lassi súrinen,
yéni únótimë ve rámar aldaron!
Yéni ve lintë yuldar avánier
mi oromardi lissë-miruvóreva
Andúnë pella, Vardo tellumar
nu luini yassen tintilar i eleni
ómaryo airetári-lírinen.
Sí man i yulma nin enquantuva?
An sí Tintallë Varda Oiolossëo
ve fanyar máryat Elentári ortanë
ar ilyë tier undulávë lumbulë
ar sindanóriello caita mornië
i falmalinnar imbë met,
ar hísië untúpa Calaciryo míri oialë.
Sí vanwa ná, Rómello vanwa, Valimar!
Namárië! Nai hiruvalyë Valimar!
Nai elyë hiruva! Namárië!
Translation
Farewell. Galadriel's Lament in Lorien
Ah! like gold fall the leaves in the wind,
long years numberless as the wings of trees!
The long years have passed like swift draughts
of the sweet mead in lofty halls
beyond the West, beneath the blue vaults of Varda
wherein the stars tremble
in the voice of her song, holy and queenly.
Who now shall refill the cup for me?
For now the Kindler, Varda, the Queen of the stars,
from Mount Everwhite has uplifted her hands like clouds
and all paths are drowned deep in shadow;
and out of a grey country darkness lies
on the foaming waves between us,
and mist covers the jewels of Calacirya for ever.
Now lost, lost to those of the East is Valimar!
Farewell! Maybe thou shalt find Valimar!
Maybe even thou shalt find it! Farewell!
Sources: http://folk.uib.no/hnohf/namarie.htm
http://www.elvenesse.net/texts/namarie.php

Transliteration
Ilye firini nar nóne lére ar imye taliesse yo auviesse. Nante arwa handasseo yo immo-isto ar mauya tien lenga imbi inte otornasseva feasse.
Source: Tecendil. Translation by Tamas Ferencz
Transliteration
All human beings are born free and equal in dignity and rights. They are endowed with reason and conscience and should act towards one another in a spirit of brotherhood.
(Article 1 of the Universal Declaration of Human Rights)
Download script charts for Tengwar (Quenya mode) (Excel)
Sample recordings in Quenya
Information about Quenya | Phrases | Numbers | Tower of Babel
Links
Information about Quenya and Tengwar
https://en.wikipedia.org/wiki/Quenya
http://folk.uib.no/hnohf/quenya.htm
http://folk.uib.no/hnohf/qcourse.htm
http://lotr.wikia.com/wiki/Quenya
https://quenya101.com/elvish-course/
https://en.wikipedia.org/wiki/Tengwar
http://lotr.wikia.com/wiki/Tengwar
http://tolkiengateway.net/wiki/Tengwar
http://at.mansbjorkman.net/tengwar.htm
Tolkien's books in various languages
Books about Tolkien's invented languages
Tengwar pages
Tengwar for Quenya, Sindarin, Arabic, English, High Valyrian, Hungarian, Icelandic, Kurdish, Portugese, Scottish Gaelic (1), Scottish Gaelic (2), Spanish, Spanish (Latin American), Turkish, Vietnamese, Welsh
Tolkien's alphabets and languages
Cirth | Sarati | Tengwar for Quenya | Tengwar for Sindarin | Uruk Runes | Links | Books about Tolkien's languages | Tolkien's books
Constructed scripts for: Ainu | Arabic | Chinese languages | Dutch | English | Hawaiian | Hungarian | Japanese | Korean | Lingala | Malay & Indonesian | Persian | Tagalog / Filipino | Russian | Sanskrit | Spanish | Taino | Turkish | Vietnamese | Welsh | Other natural languages | Colour-based scripts | Tactile scripts | Phonetic/universal scripts | Constructed scripts for constructed languages | Adaptations of existing alphabets | Fictional alphabets | Magical alphabets | A-Z index | How to submit a constructed script
[top]
---

Why not share this page:

If you like this site and find it useful, you can support it by making a donation via PayPal or Patreon, or by contributing in other ways. Omniglot is how I make my living.
Note: all links on this site to Amazon.com
, Amazon.co.uk
and Amazon.fr
are affiliate links. This means I earn a commission if you click on any of them and buy something. So by clicking on these links you can help to support this site.
Get a 30-day Free Trial of Amazon Prime (UK)
If you're looking for home or car insurance in the UK, why not try Policy Expert?
[top]