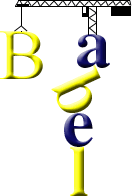 The Tower of Babel (Genesis 11: 1-9)
Uduk (T'wampa)
Dhali aris 'kwani 'baar mo kun 'koni mony'cesh mo tani uni ta gi jasi 'twan 'de/ jin wala uni kadhamo/ mo dhali 'twa/ yisa misha uni ki thatha/ thatha/ yisa.
Dhali me'd jin borkina 'kwani is mo e mom'pesho'k mo tani uni gamki mony'cesh jin ta'da thiṯẖin thiṯẖ mo e Pan Shinaar mo dhali uni ki 'ko nycine/ mo.
Dhali uni ki o gwo ka rem 'kup̱ mo ki: Iiyu/ bala dhalki ana uḵa je mo dhali 'thos uni mo ki ṯil ṯil mo. Dhali uni tan ga jeŋ gu'b 'peni wosh mo dhala dena ma sip̱ti mmorus to mo.
Dhali yan'ko'd uni ki o gwo mo ki: Iiyu/ mo dhalki ana nyaŋa dhan 'peŋkuman bampa/ gom is bana mo dhali gu'b jin turatur, a'di jin midi gu 'kup̱ piti gamki mis mo dhali dhalki ana 'kwara gwo gom is bana mo isi ciki/ ki ana 'konuki c̱eker bwa e bwam/e gi mony'ceshi 'baar mo.
Dhali Tap̱a a'di thulki'd ka 'cesh mo mmop̱ar 'peŋkuman bampa/ e mo dhali gu'ba turga/ yan mo a'di jin nyaŋkina iya/ gi 'kwani mo.
Dhali Tap̱a ki o gwo mo ki: Hili mo mo ma, uni ta 'kwani jin ṯala en 'de/ mo dhali uni 'baar mo wal 'twan ṯal 'de/ mo, dhali a'di ta jasi monṯel 'pen jin ṯwa/a/ mo a'di jin mina uni mii mo, dhali ma to yin jin mina uni o bwa mmomii mo tani a'di midi diki ta to jin midi p̱i uni e mo.
Iiyu/ mo dhali dhalki ana iina ka 'cesh mo dhali tuŋkur uni 'twa/ is mo ki uni mini 'koki mish ciḵ gwo ka gam 'kup̱ mo jin wala uni mo.
Wakan Tap̱a ki c̱eker uni bwa e mo 'baar mo 'peni mun ntagi bwam/e gi mony'ceshi 'baar mo, dhali uni dhalki 'peŋkuman bampa/ 'pen ki dar gi mo jin 'kona uni ki 'ka a'di 'kup̱ mo.
Wakan gway piti yuḵu gway ka Baabil mo haali/ Tap̱a tuŋkurki 'twa/ gi mony'ceshi 'baar mo is mo, dhali 'peni mun mo tani Tap̱a ki c̱eker uni bwa eya ris bwam/e gi mony'ceshi 'baar mo.
Source: Ṯakwiin (Genesis). Uduk New Testament and OT Portions. Society for International Ministries, 2013.
Contributed by Wolfgang Kuhl
Uduk is a Nilo-Saharan language spoken in Sudan and South Sudan by about 22,000 people.
More information about Uduk
http://en.wikipedia.org/wiki/Uduk_language
https://www.ethnologue.com/language/udu
Tower of Babel in Nilo-Saharan languages
Acholi, Dholuo, Kalenjin, Kumam, Lango, Mbay, Ngambay, Nuer, Sar, Teso, Uduk, Zarma
Other Tower of Babel translations
By language | By language family