German Cyrillic (Деуч Кыриллишес Алфабет)
The German Cyrillic was devised by Chris Winther, who has a German background, grew up with many Russian friends and neighbours, and is studying Germanic and Slavic languages. He decided to create this alphabet one day out of sheer boredom.
This alphabet is based mainly on the Russian alphabet, with some letters borrowed from the following languages:
Kazakh: Әә (Ää), Ңң (Ng ng) and Өө (Öö)
Kazakh and Uzbek: Ққ (Qq)
Belarusian: Ўў (Üü)
Ukrainian: Єє (Je je)
Serbian/Montenegrin/Bosnian/Macedonian: Јј (Jj)
Tajik and Uzbek: Ҳҳ (Hh)
Azerbaijani: Ҝҝ (Xx)
Bulgarian: Щщ (St st)
German Cyrillic alphabet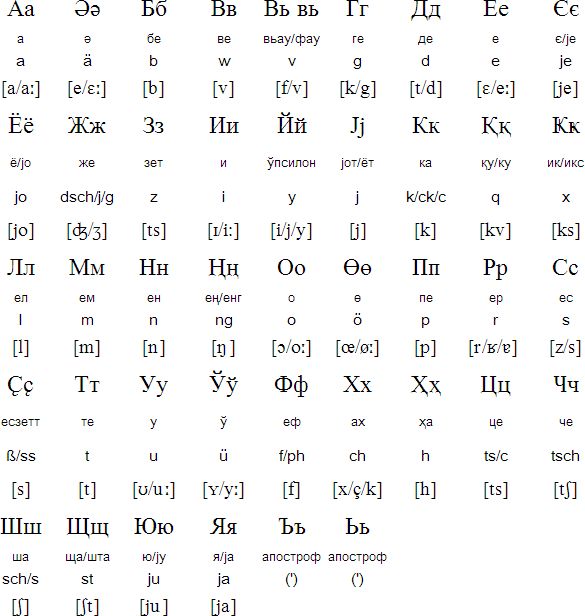 Sample text German Cyrillic
Алле Меншен синд фреи унд глеих ан Вўрде унд Рехтен геборен. Сие синд мит Вьернунфт унд Гевиссен бегабт унд соллен еинандер им Геист дер Брўдерлихкеит бегегнен.
Standard German version
Alle Menschen sind frei und gleich an Würde und Rechten geboren. Sie sind mit Vernunft und Gewissen begabt und sollen einander im Geist der Brüderlichkeit begegnen.
Translation
All human beings are born free and equal in dignity and rights. They are endowed with reason and conscience and should act towards one another in a spirit of brotherhood.
(Article 1 of the Universal Declaration of Human Rights)
Other adaptations of alphabets
German pages
Information about German | Phrases | Numbers | Colours | Kinship terms | Time | Weather | Tongue twisters | Tower of Babel | Articles | Links | Learning materials