Top apps and books for studying Japanese language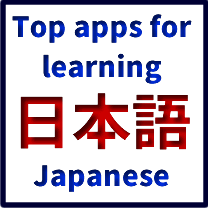 by Karen Tomita
If you have a great desire to study Japanese, but no opportunity to go Japan and communicate with native speakers, no panic. Fortunately, we live in the world of globalization and sharing the information, and as a result, everybody can find everything via Internet. In this article, I would like to make a short review of the best books and applications for studying Japanese language.
1. Grammar
A Dictionary of Basic Japanese Grammar - it is not a textbook, but a treasury of numerous Japanese grammar constructions for beginners. Students call it "Yellow book" or "Japanese Bible".
TextFugu - this service is made especially for self-learners, so the website is comfortable and easy in use.
Read Kanji - studying Japanese in the context of real sentences, improving understanding and grammar.
Kim's Grammar Guide - website for learning Japanese online.
Learn Japanese by Mindsnacks - free app for quick and interesting practicing language skills.
2. Vocabulary
3. Training of speaking/understanding
それじゃ、みんなさん、頑張ってください!

About the writer
My name is Karen Tomita, Nisei Japanese in Georgia. I am a writer and a full-time blogger at www.eduzaurus.com. As a writer, I am interested in everything related to language, language learning and teaching. どうぞ,よろしくお願いします!
Japanese pages on Omniglot
Japanese language | Written Japanese | Hiragana | Katakana | Kanji | Rōmaji | Phrases | Numbers | Colours | Time | Tower of Babel | Articles | Links | Learning materials
Writing systems | Language and languages | Language learning | Learning vocabulary | Language acquisition | Motivation and reasons to learn languages | Being and becoming bilingual | Arabic | Basque | Chinese | English | Esperanto | French | German | Greek | Hebrew | Indonesian | Italian | Japanese | Korean | Latin | Portuguese | Russian | Sign Languages | Spanish | Swedish | Other languages | Minority and endangered languages | Constructed languages (conlangs) | Reviews of language courses and books | Language learning apps | Teaching languages | Languages and careers | Language and culture | Language development and disorders | Translation and interpreting | Multilingual websites, databases and coding | History | Travel | Food | Spoof articles | How to submit an article