Aklan (Inakeanon)
Aklan is a member of the Western Visayan branch of Philippine languages, a part of the Malayo-Polynesian language family. It is spoken mainly in the province of Aklan on the island of Panay in the Philippines by about 460,000 people. There are also Aklan-speaking emigrants in Manila, southern Mindanao, and the USA. Aklan is closely related to the Kinaray-a and Kuyonon languages of the western Visayas.
The language is known as Aklan, Aklanon or Akeanon in English, and the native name is Inakeanon [Ɂinakɤa:nun].
Aklan alphabet and pronunciation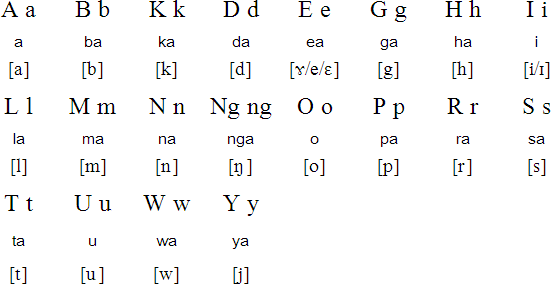 The Aklan alphabet said in alphabetical order makes a meaningful phrase: Aba ka daeaga, ha? Ila' mana nga opah ra sa Ta'uwaya? (Hop on my back, young lady, ok? Would you like, so to speak, that this rice husk (go) to Tauwaya?)
Download an alphabet chart for Aklan (Excel)
Information about Aklan compiled by David Zorc, who spent four years in the Philippines with the Peace Corps and was sent to Aklan, where he wrote a dictionary and grammar of the Aklan language, and married a Aklan speaker.
Sample text in Aklan (Philippine National Proverb)
Ro uwa' gatan-aw sa anang ginhalinan hay indi makaabut sa anang ginapaeangpan.
Translation (Filipino/Tagalog)
Ang hindi' marunong lumingon sa pinanggalingan ay hindi' makakarating sa paroroonan.
Translation (English)
He who does not look back to where he comes from, will never reach his destination.
Information about Aklan | Aklan phrases | Aklan numbers
Links
Information about Aklan
http://en.wikipedia.org/wiki/Aklan_language
http://aklanweb.tripod.com/language.htm
Aklan phrases
http://wikitravel.org/en/Akeanon_phrasebook
http://www.nscb.gov.ph/ru6/aklanon.htm
http://www.oocities.org/si-agnon/phrases.html
http://en.wikivoyage.org/wiki/Akeanon_phrasebook
Philippine languages
Other languages written with the Latin alphabet