Cuyonon
Cuyonon is a member of the Philippine branch of Malayo-Polynesian languages. It is spoken mainly in the Cuyo Islands, between Northen Palawan and Panay Island in the Philippines, by between 93,000 and 120,000 people. Cuyonon was used as a lingua franca in Palawan province until the late 1980s, although the number of speakers there has decreased more recently due to migratation, and to pressure from Tagalog, which is the main language used in schools.
Cuyonon is rarely written, and the only major written work in the language is a translation of the New Testament, which was published in 1982. Various spelling systems have been tried for the language, however none caught on. A project to produce a dictionary of Cuyonon was started by Ester Ponce De Leon Timbancaya Elphick, a native Cuyo island who studied education and linguistics in the USA. It also involved creating a new orthography, which was discussed with an advisory panel in the Philippines, and with many other speakers of Cuyonon.
Cuyonon alphabet and pronunciation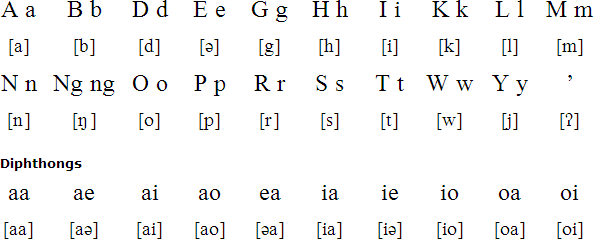 Sample text
Tanang tao ingbata nga beken i' oripen ig karamped i' dignidad ig manga katadlengan. Ingkaloyan sanda i'lebang akaelam agpasonaid; pagirisipen nga akapapainoino i'ang maayad ig ang beken; pagseleng sa masigkatao nga marabogtitinai.
Translation by Manang Filing (Filiusa Ponce de Leon Timbancaya)
Translation
All human beings are born free and equal in dignity and rights. They are endowed with reason and conscience and should act towards one another in a spirit of brotherhood.
(Article 1 of the Universal Declaration of Human Rights)
Information about Cuyonon | Cuyonon phrases | Cuyonon numbers | Telling the time in Cuyonon | Cuyonon kinship terms
Links
Information about the Cuyonon language
http://en.wikipedia.org/wiki/Cuyonon_language
https://www.facebook.com/permalink.php?id=148009715298634&story_fbid=234696786629926
http://www.ethnologue.com/language/cyo/
http://www.redbubble.com/people/metronomad/journal/680924-i-m-a-cuyonon-and-i-love-my-language-by-katherine-jack
http://www15.gencat.cat/pres_casa_llengues/AppJava/frontend/llengues_detall.jsp?id=960&idioma=5
https://www.facebook.com/permalink.php?id=297837916643&story_fbid=10151627509241644
Cuyonon verbs
http://wiki.verbix.com/Languages/Cuyonon
Videos in Cuyonon
http://www.youtube.com/playlist?list=PL0AC0CD992CF6F3B2
Philippine languages
Other languages written with the Latin alphabet