Busa (Bisã)
Busa is a Mande language spoken in Benin and Nigeria by about 110,000 people (2012). It is spoken in what used to be the Bussa (Boussa) Emirate in the states of Niger and Kebbi in western Nigeria.
Busa alphabet and pronunciation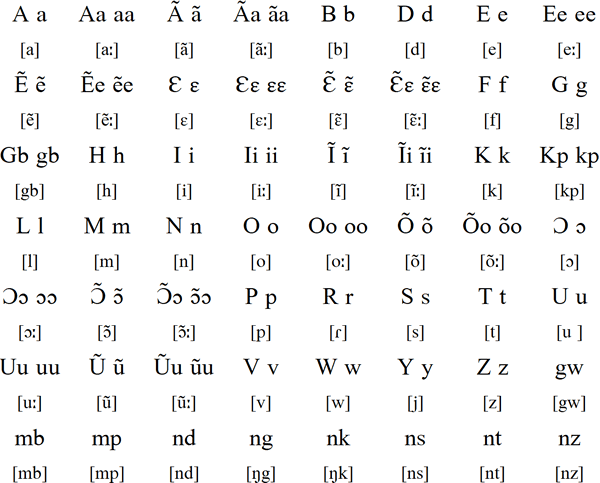 High tones are marked with and acute accent (´) and low tones are marked with a grave accent (`).
Download an alphabet chart for Busa (Excel)
Sample text (Lord's Prayer)
Wa De kɛ̀ kú musu, ǹ tó wàgↄ̃ dↄ̃ kɛ̀ n tↄ́ adona. Ǹ tó kpata kɛ̀ bↄ̀ n kiia bↄ gupuraaa, wà n pↄyezi kɛ anduna guu, lán wè kɛ zaa musu nà. Ǹ wa gba ú kɛ̀ wé ble gbã̀a. Ǹ wa taarinↄ kɛ̃we, lán weè kɛ̃ gbɛ̃ kɛ̀ aↄ̃ taari kɛ̀weenↄnɛ nà. Ǹton tó wà fu yↄ̃agwanaaro, ǹ wa sí à zaaaa.
Source: http://ebible.org/bus/MAT06.htm
Details of Busa pronunciation and sample text provided by Michael Peter Füstumum
Information about Busa | Tower of Babel in Busa
Links
Information about the Busa languages
https://en.wikipedia.org/wiki/Busa_language_(Mande)
https://de.wikipedia.org/wiki/Busa_(Sprache)
http://www.ethnologue.org/language/bqp
Mande languages
Bambara, Busa, Kpelle, Loma, Mandinka, Maninka, Mende, Soninke, Susu, Vai
Other languages written with the Latin alphabet