Chang (Mochungrr)
Chang is a member of the Brahmaputran branch of the Sino-Tibetan language family. It is spoken in Tuensang District in east-central Nagaland in the northeast of India. According to the 2001 Indian census, there are 62,000 speakers of Chang. The language is also known as Changyanguh, Machongrr, Mochumi, Mochungrr or Mojung.
Chang alphabet and pronunciation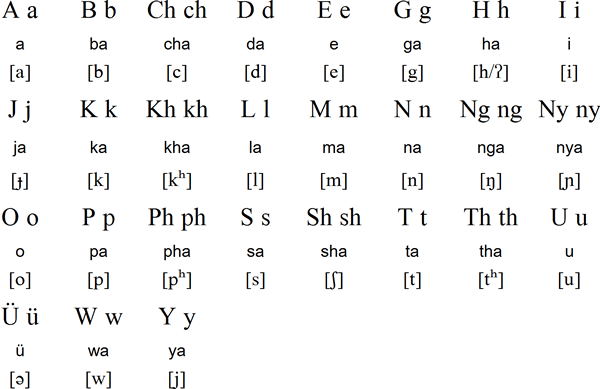 H is pronunced [h] at the beginning of syllable, [ʔ] at the end of syllable.
Download a Chang alphabet chart (Excel)
Sample text (The Lord's Prayer
Khuthüka kibü Abou, Ka nyen saopobü yingshi, Kaibü Sangle kaiya, Khuthüka kibü tegü, kaodakakei kamaang leshi. Kün la tat chaangbou shausiyung kubü; Künei ailai müeibü shedbü apbuan ki kho tegü küneibü shedbükei apbuma. Hobaje kün takteibü to teleima, lausikei amaibou ka kün senetashi.
Source: https://www.bible.com/en-GB/bible/961/MAT.6.NAGC
Information provided by Michael Peter Füstumum
Information about Chang | Tower of Babel
Links
Information about Achang
https://en.wikipedia.org/wiki/Chang_language
http://www.ethnologue.com/18/language/nbc/
http://wals.info/languoid/lect/wals_code_chg
Other languages written with the Latin alphabet