The Tower of Babel (Genesis 11: 1-9)
Church Slavonic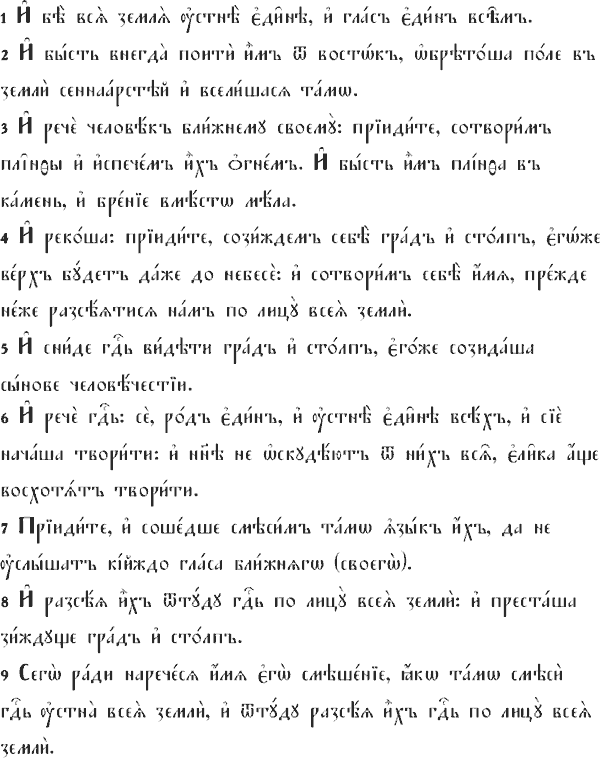 Listen to a recording of this text made by Ellis Christoff (Euthymius) for Librivox.org
Transliteration
I bě vsę zemlę ustně edině, i glasǔ edinǔ vsěmǔ
I bystǐ vnegda poiti imǔ ōt vostōkǔ, ōbrětoša pole vǔ zemli sennaarstěj i vselnšasę tamō.
I reče čelověkǔ bližnemu svoemu: prïidite, sotvorimǔ painthy i ispečemǔ ixǔ ognemǔ. I bystǐ imǔ plintha vǔ kamenǐ, i brenïe vměstō měla.
I rekoša: prïidite, soziždemǔ sebě gradǔ i stolpǔ, egōže verxǔ budetǔ daže do nebese: i sotvorimǔ sebě imę, prežde neže razsěętisę namǔ po licu vseę zemli.
I snide gdǐ viděti gradǔ i stolpǔ, egože sozidaša synove čelověčestïi.
I reče gdǐ: se, rodǔ edinǔ, i ustně edině vsexǔ, i sïe načaša tvoriti: i nně ne ōskudějutǔ ōt nixǔ vsę, elika ašte vosxotętǔ tvoriti.
Prïidite, i sošedše směsimǔ tamō ęzykǔ ixǔ, da ne uslyšatǔ kiiždo glasa bližnęgō (svoegō).
I razsěę ixǔ ōtudu gdǐ po licu vseę zemli: i prestaša ziždušte gradǔ i stolpǔ.
Segō radi narečesę imę egō směšenïe, jakō tamō směsi gdǐ ustna vseę zemli, i ōtudu razsěę ixǔ gdǐ po licu vseę zemli.
Transliteration provided by Shawn Kilpatrick
Another version of this text by Scott Brewer, who normalized the orthography for the older form of Old Church Slavonic, and replaced some words with older counterparts.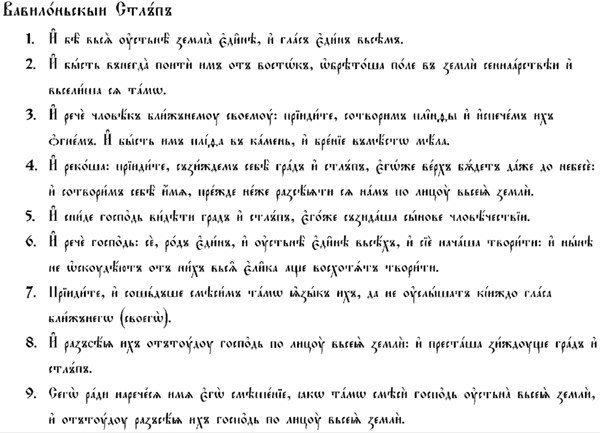 IPA transcription
vaviˈlonɪ̆skɨ̆jĭ ˈstl̩pʊ̆
i bæ vɪ̆ˈsẽ ustɪ̆ˈnæ zemˈlja jeˈdinæ | i ˈglasʊ̆ jeˈdinʊ̆ vɪ̆ˈsæmʊ̆ ‖
i ˈbɨstɪ̆ vʊ̆negˈda pojɪ̆ˈti ˈimʊ̆ ˈotʊ̆ voˈstokʊ̆ | obɾæˈtoʃa ˈpole vʊ̆‿zeˈmlji sena.ˈaɾstvæjɪ̆ i vɪ̆seˈliʃa‿sẽ ˈtamo ‖
i ɾeˈt͜ʃe t͜ʃloˈvækʊ̆ ˈbliʒʊ̆nemu svojeˈmu | prijɪ̆ˈdite | sotvoˈɾimʊ̆ ˈplinfɨ i ispeˈt͜ʃemʊ̆ ˈixʊ̆ oˈgnemʊ̆ ‖ i ˈbɨstɪ̆ ˈimʊ̆ ˈplifa vʊ̆‿ˈkamenɪ̆ | i ˈbɾenɪ̆je vʊ̆ˈmæsto ˈmæla ‖
i ɾeˈkoʃa | pɾijɪ̆ˈdite | sʊ̆ˈziʒdemʊ̆ seˈbæ ˈgɾadʊ̆ i ˈstl̩pʊ̆ | jeˈgoʒe ˈveɾxʊ̆ ˈbõdetʊ̆ ˈdaʒe do nebeˈse | i sotvoˈɾimʊ̆ seˈbæ ˈimẽ ˈpɾeʒde ˈneʒe ɾasˈsæjẽti‿sẽ ˈnamʊ̆ po liˈt͜su vɪ̆seˈjẽ zeˈmlji ‖
i ˈsnide goˈspodɪ̆ ˈvidæti ˈgradʊ̆ i ˈstl̩pʊ̆ | jeˈgoʒe sʊ̆ziˈdaʃa ˈsɨnove t͜ʃloˈvæt͜ʃestvɪ̆jɪ̆ ‖
i ɾeˈt͜ʃe goˈspodɪ̆ | se | ˈɾodʊ̆ jeˈdinʊ̆ | i ustɪ̆ˈnæ jeˈdinæ vɪ̆ˈsæxʊ̆ | i sɪ̆ˈje naˈt͜ʃaʃa tvoˈɾiti | i ˈnɨnæ ne oskuˈdæjutʊ̆ ˈotʊ̆ ˈnixʊ̆ vɪ̆ˈsẽ jeˈlika ˈaʃte vosxoˈtẽtʊ̆ tvoˈɾiti ‖
pɾijɪ̆ˈdite | i soˈʃɪ̆dʊ̆ʃe smæˈsimʊ̆ ˈtamo jẽˈzɨkʊ̆ ˈixʊ̆ | da ne uˈslɨʃatʊ̆ ˈkijɪ̆ʒdo ˈglasa ˈbliʒʊ̆nego (svojeˈgo) ‖
i ɾazʊ̆ˈsæjẽ ˈixʊ̆ otʊ̆ˈtudu goˈspodɪ̆ po liˈt͜su vɪ̆seˈjẽ zeˈmlji | i pɾeˈstaʃa ˈziʒduʃte ˈgɾadʊ̆ i ˈstl̩pʊ̆ ‖
seˈgo ˈɾadi naɾeˈt͜ʃesẽ ˈimẽ jeˈgo smæˈʃenɪ̆je | ˈjako ˈtamo smæˈsi goˈspodɪ̆ ustɪ̆ˈna vɪ̆seˈjẽ zeˈmlji | i otʊ̆ˈtudu ɾazʊ̆ˈsæjẽ ˈixʊ̆ goˈspodɪ̆ po liˈt͜su vɪ̆seˈjẽ zeˈmlji ‖
Hear a recording of this text by Scott Brewer
Information about Old Church Slavonic | Tower of Babel | Learning materials
Tower of Babel in Slavic languages
Belarusian, Bosnian, Bulgarian, Church Slavonic, Croatian, Czech, Macedonian, Polish, Russian, Serbian, Slovak, Slovenian, Sorbian, Ukrainian
Other Tower of Babel translations
By language | By language family