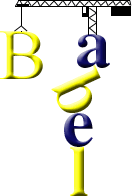 The Tower of Babel (Genesis 11: 1-9)
Vtedy celý svet používal jedinú reč a rovnaké slová.
Keď sa na východe ľudia pohli, našli rovinu v krajine Šineár a usadili sa tam.
Povedali si: Poďme, narobme si tehál a dobre ich vypáľme. Tak im tehly slúžili za kameň a asfalt za maltu.
Potom si povedali: Poďme, vystavme si mesto a vežu, ktorej vrch by siahal po nebesá; tak si urobíme meno, aby sme neboli roztratení po celej zemi.
Nato zostúpil Hospodin, aby videl mesto i vežu, ktorú stavali ľudskí synovia.
Hospodin riekol: Je tu jeden ľud a všetci majú jednu reč; a to je len začiatok ich výčinov; teraz im už nič neznemožní vykonať, čo si zaumienia.
Poďme, zostúpme a zmäťme im tam reč, aby ani jeden nerozumel reči druhého.
Tak ich Hospodin rozptýlil po celej zemi a prestali stavať mesto.
Preto ho pomenovali Bábelom, lebo tam Hospodin zmiatol reč celému svetu a odtiaľ ich Hospodin rozptýlil po celej zemi.
Information about Slovak | Useful phrases | Family words | Idioms | Tongue twisters | Tower of Babel | Learning materials
Tower of Babel in Slavic languages
Belarusian, Bosnian, Bulgarian, Church Slavonic, Croatian, Czech, Macedonian, Polish, Russian, Serbian, Slovak, Slovenian, Sorbian, Ukrainian
Other Tower of Babel translations
By language | By language family