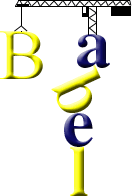 The Tower of Babel (Genesis 11: 1-9)
Polski (Polish)
Mieszkańcy całej ziemi mieli jedną mowę, czyli jednakowe słowa
A gdy wędrowali ze wschodu, napotkali równinę w kraju Szinear i tam zamieszkali.
I mówili jeden do drugiego: "Chodźcie, wyrabiajmy cegłę i wypalmy ją w ogniu". A gdy już mieli cegłę zamiast kamieni i smołę zamiast zaprawy murarskiej,
rzekli: "Chodźcie, zbudujemy sobie miasto i wieżę, której wierzchołek będzie sięgał nieba, i w ten sposób uczynimy sobie znak, abyśmy się nie rozproszyli po całej ziemi".
A Pan zstąpił z nieba, by zobaczyć to miasto i wieżę, które budowali ludzie,
i rzekł: "Są oni jednym ludem i wszyscy mają jedną mowę, i to jest przyczyną, że zaczęli budować. A zatem w przyszłości nic nie będzie dla nich niemożliwe, cokolwiek zamierzą uczynić.
Zejdźmy więc i pomieszajmy tam ich język, aby jeden nie rozumiał drugiego!"
W ten sposób Pan rozproszył ich stamtąd po całej powierzchni ziemi, i tak nie dokończyli budowy tego miasta.
Dlatego to nazwano je Babel, tam bowiem Pan pomieszał mowę mieszkańców całej ziemi. Stamtąd też Pan rozproszył ich po całej powierzchni ziemi.
Information about Polish | Phrases | Numbers | Tongue twisters | Tower of Babel | Learning materials
Tower of Babel in Slavic languages
Belarusian, Bosnian, Bulgarian, Church Slavonic, Croatian, Czech, Macedonian, Polish, Russian, Serbian, Slovak, Slovenian, Sorbian, Ukrainian
Other Tower of Babel translations
By language | By language family