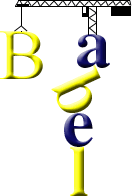 The Tower of Babel (Genesis 11: 1-9)
Yalunkanya (Yalunka)
Xuine yitaxun fena
Na waxatini dunuɲa birin yi xui keden nan falama.
Muxuna ndee to siga sogeteden binni, e yi dɔxɔ Sinari lanbanni.
E yi a fala e bode xa, e naxa, "En siga, en xa bitkidin bɔnbɔ, en xa a gan." E yi bitikidine dɔxɔ gɛmɛne ɲɔxɔni. E yi dolen findi bikikidi dɔxɔ seen na.
Na xanbi ra, e yi a fala, e naxa, "En siga, en xa taan ti en yɛtɛ xa, e nun sanganso gbeen naxan tema han kore, alogo en xinla xa gbo ayi. Nanara, en nama xuya ayi dunuɲa xun xɔn."
Koni Alatala yi godo na taan nun sanganso gbeen matodeni muxune naxan ti.
Alatala yi a fala, a naxa, "Muxuni itoe, naxanye siya keden, xui keden a ra, xa ne bata wanli ito fɔlɔ, wanla birin e waxi naxan kɛ feni sɔnɔn, e na ligama nɛn.
En siga, en godo e xuiin basandeni alogo e nama e bode xuiin mɛ."
Alatala yi e raxuya ayi. Na taan ti feen yi dan.
Na yiren yi xili Babeli, bayo Alatala bata dunuɲa xuine basan e bode ra na yi. Fɔlɔ mɛnni, Alatala yi e raxuya ayi dunuɲa birin ma.
Source: Kisin Kiraan Kitabuna. The Bible in Yalunka.
Contributed by Wolfgang Kuhl
Yalunka is a member of the Mande branch of Niger-Congo languages spoken in Guinea, Mali, Senegal, and Sierra Leone in West Africa by about 100,000 people.
More information about Yalunka
http://www.ethnologue.org/language/yal
http://en.wikipedia.org/wiki/Yalunka_language
Tower of Babel in Mande languages
Boko, Busa, Dyula, Kpelle, Maninka, Soninke, Toma, Yalunka
Other Tower of Babel translations