Bhāratalipi Unified Indian Script (BLUIS)
The Bhāratalipi Unified Indian Script (BLUIS) was designed by Punya Pranava Pasumarty as an alternative script for Sanskrit, Tamil and Urdu. Thus it can be used to write all spoken Indian languages with a certainty of about 95%. However, by no means is the script intended to replace the age old writing systems of the Indian languages in concern. The script uses very simple glyphs in an intuitive manner to develop the various sounds required for use in Indian languages. This script, if implemented, has the following aims in mind:
easy translation and transcription between Indian languages
simplified system for governmental documents and procedures
national integration for India as a country
a firm ground for the possibility of a new national language (for India)
It is to be noted that, notwithstanding the fact that some Indian languages like Urdu and Kashmiri are written from right to left, BLUIS is necessarily written from left to right. However, it is permitted for one to learn the script completely in mirror image for the purpose of writing from right to left if there is no choice.
Notable features
BLUIS is neither completely an alphabet nor an abugida. The features of the script are the following:
script runs from left to right in horizontal lines
there are 12 basic letters
6 appends may be used along with the letters to modify them
there are unique numerals from 0 to 9 (+2 for dozenal use)
3 special characters are used for common syllables
Bhāratalipi Unified Indian Script (BLUIS)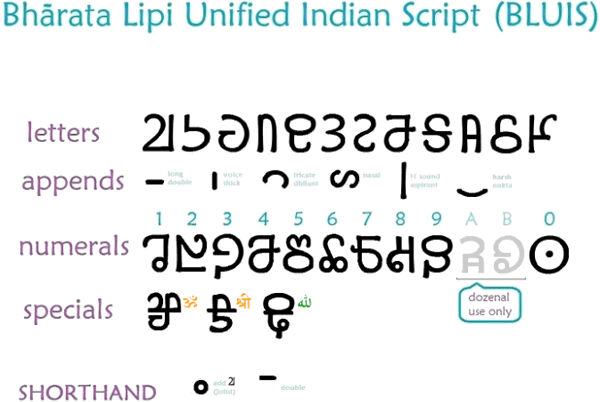 Rarely would one find letters in their pure form since they often combine with one or more appends to develop the wide array of sounds used in Indian languages. It is therefore helpful to know the basic letter-to-append combinations and their pronunciational equivalents in Sanskrit, Tamil and Urdu in order to actually read text. Note that this script abides by the pronunciation of sounds in Indian languages and so might make changes with respect to that for different Indian languages.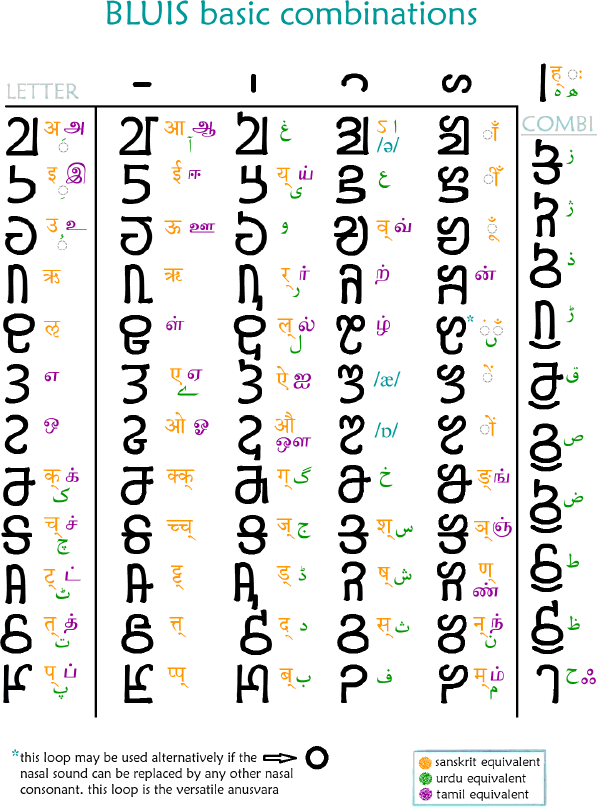 These are called basic combinations because one can also use multiple appends on one letter to produce more sounds. Some of these further combinations have been provided in the COMBI column in this image.
When writing in BLUIS, there is a convention called the SHORTHAND, mentioned in the first image here, which is followed for convenience. As can be seen in the first image, there are 3 SHORTHAND provisions: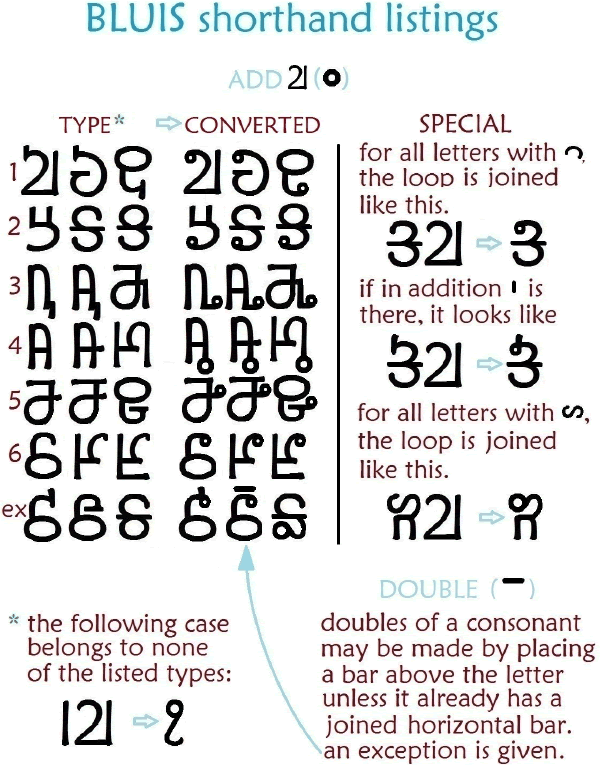 The usage of this convention is, unless mentioned otherwise, mandatory since it brings about the possibility of 2 more sounds, otherwise unaccounted for (i.e. 'a' as in 'cat' & 'o' as in 'cot'). These two sounds are used in Bengali and the international language English.
Sample texts in Bhāratalipi Unified Indian Script (BLUIS)
Sanskrit version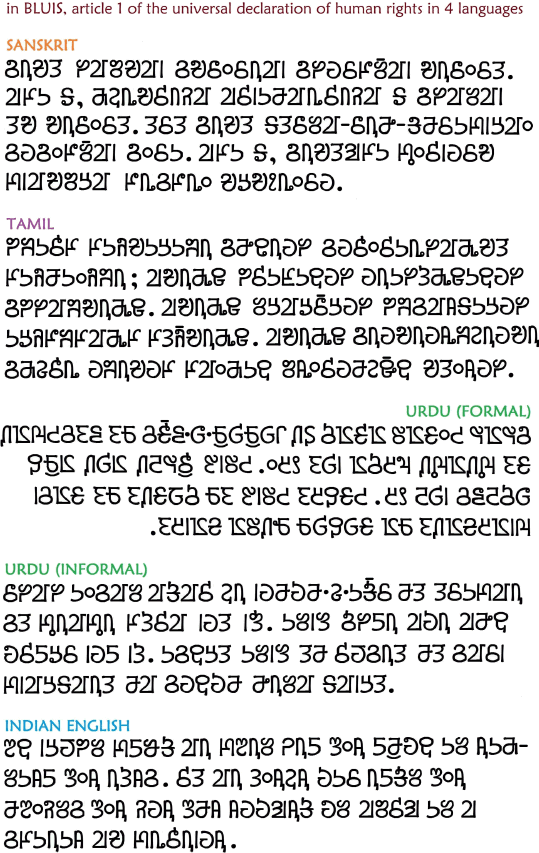 Transliteration in the Devanagari script

Tamil version

Transliteration in the Tamil script

Urdu version

Transliteration in the Urdu script

Transliteration
All human beings are born free and equal in dignity and rights. They are endowed with reason and conscience and should act towards one another in a spirit of brotherhood.
(Article 1 of the Universal Declaration of Human Rights)