Polish Cyrillic (Полски алфабет)
This is a method of writing Polish using the Cyrillic alphabet devised by Bartosz Uszko from Poland, who believes that as Polish is a Slavic language, it should be possible to write it with the Cyrillic alphabet.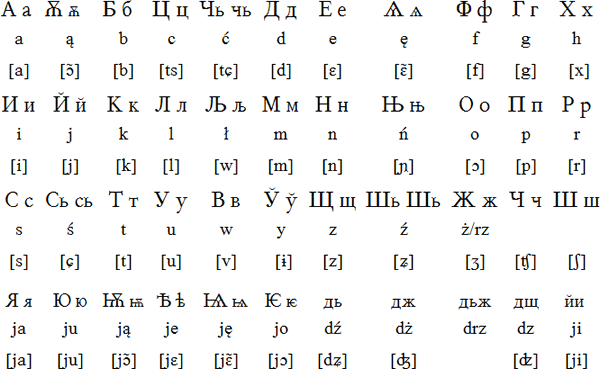 Sample text Polish Cyrillic
Вшўсцў лудьѣ родщѫ сьѩ волњи и рувњи в своѣй годносьчьи и правах. Сѫ обдажењи рощумем и сумѣњѣм и повинњи постѧповачь вобец сьѣбѣ в духу братерства.
Standard Polish version
Wszyscy ludzie rodzą się wolni i równi w swojej godności i prawach. Są obdarzeni rozumem i sumieniem i powinni postępować wobec siebie w duchu braterstwa.
Translation
All human beings are born free and equal in dignity and rights. They are endowed with reason and conscience and should act towards one another in a spirit of brotherhood.
(Article 1 of the Universal Declaration of Human Rights)
Links
Other adaptations of Cyrillic for Polish
http://en.wikipedia.org/wiki/User:BalkanFever/Polish_Cyrillic_Alphabet
http://steen.free.fr/cyrpol/index.html
Other adaptations of alphabets
Information about Polish | Phrases | Numbers | Tongue twisters | Tower of Babel | Learning materials