Polskizcyrylicą (Полскизцырылицѫ)
This is a method of writing Polish using the Cyrillic alphabet devised by Vaulson Neoleon. He created this script out of curiosity to see what Polish would look like in the Cyrillic script. The name of the script is derived from the Polish of "Polish with Cyrillic". The script is mainly based on Old Church Slavonic, Serbian, and Montenegrin alphabets.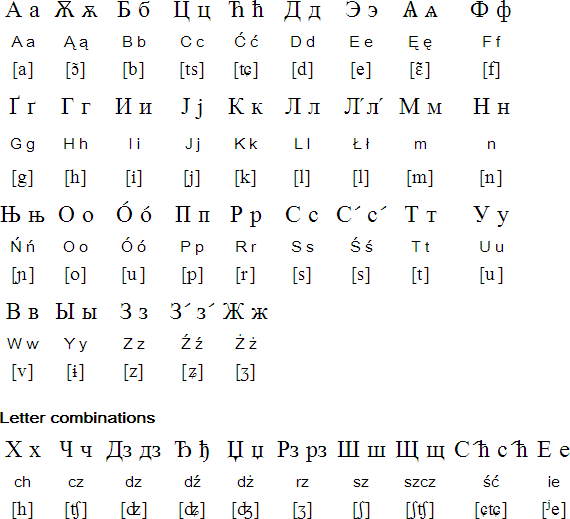 Download a Excel spreadsheet of this alphabet
Sample text Polskizcyrylicą
Вшысцы лудзе родзѫ сиѧ волни и ро́вни в својеј ґодносˊци и правах. Сѫ обдарзэни розумэм и суменем и повинни постѧповаћ вобэц себе в духу братэрства.
Standard Polish version
Wszyscy ludzie rodzą się wolni i równi w swojej godności i prawach. Są obdarzeni rozumem i sumieniem i powinni postępować wobec siebie w duchu braterstwa.
Translation
All human beings are born free and equal in dignity and rights. They are endowed with reason and conscience and should act towards one another in a spirit of brotherhood.
(Article 1 of the Universal Declaration of Human Rights)
Links
Other adaptations of Cyrillic for Polish
http://en.wikipedia.org/wiki/User:BalkanFever/Polish_Cyrillic_Alphabet
http://steen.free.fr/cyrpol/index.html
Other adaptations of alphabets
Information about Polish | Phrases | Numbers | Tongue twisters | Tower of Babel | Learning materials