Sarati alphabet
J.R.R. Tolkien created many languages throughout his life. He wrote in one of his letters that the tales of Middle-earth (The Hobbit, The Lord of the Rings and The Silmarilion) grew from these languages, rather than the languages being created for use in the stories.
Tolkien also created a number of different alphabets to write his languages - the Sarati alphabet only appears in a small number of inscriptions in the tales of Middle-earth.
Notable features
Written from left to right in vertical columns.
Vowel diacritics are written to left or right of the consonant letter - if they appear on the left, they come before the consonant, if they appear on the right, they come after the consonant. If they appear at the beginning of a word they are written with a special vowel holder.
Sarati alphabet
Consonants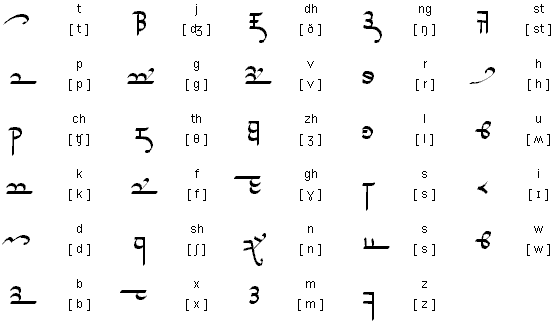 Vowel diacritics

Sample text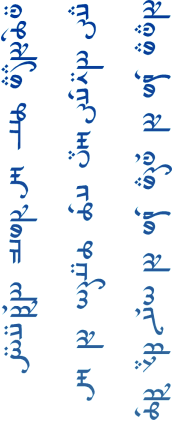 Source: http://at.mansbjorkman.net/sarati.htm
Links
Information about Sarati (includes a free font)
http://at.mansbjorkman.net/sarati.htm
Information on how Sarati can be used to write Quenya
http://www.elvish.org/gwaith/sarati.htm
Tolkien's Middle-earth alphabets, by Dan Smith
http://ring-lord.tripod.com/alpha.html
Hebrew modes for Sarati, by Yehuda Ronen
http://my.ort.org.il/tolkien/gandalf/ps/sarati.ps.gz
Sarati typewriter, by Ethan Deneault
http://www.steelangel.com/Sarati/SaratiMacros_v1.zip
Tolkien's alphabets and languages
Cirth | Sarati | Tengwar for Quenya | Tengwar for Sindarin | Uruk Runes | Quenya phrases | Tolkien-related links | Books about Tolkien's invented languages | Tolkien's books in various languages