Arakanese (ရခိုင်ဘာသာ)
Arakanese is a Burmese language spoken in Rakhine state (ရခိုင်ပြည်နယ်), a region in the south west of Burma/Myanmar formerly known as Arakan, by about 2 million people, half of whom are native speakers. There are also some Arakanese speakers in Paletwa Township in Chin state. It is considered by some to be a dialect of Burmese, though differs significantly from Standard Burmese in its vocabulary, including loan words from Bengali, English, and Hindi.
There are three dialects of Arakanese: Sittwe–Marma, Ramree and Thandwe. The most widely-spoken one is Sittwe–Marma.
Arakanese alphabet and pronunciation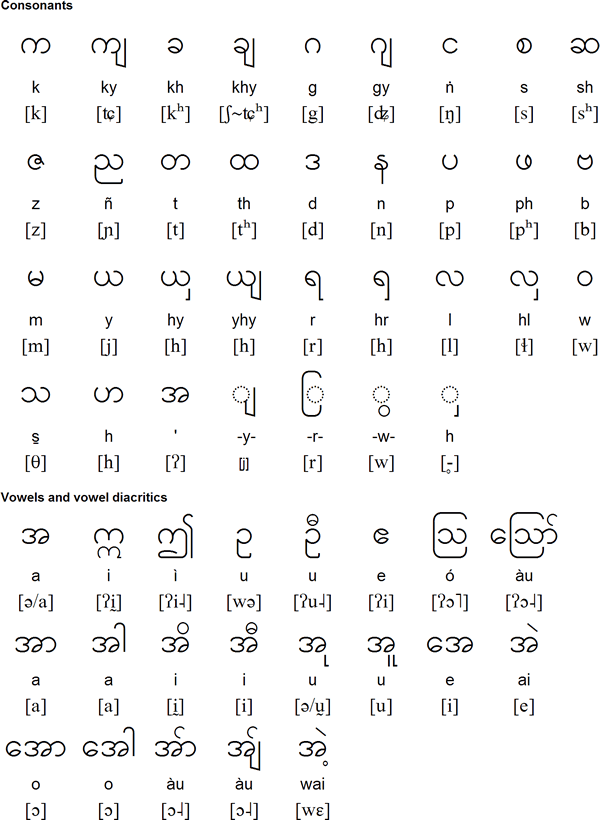 Download alphabet charts for Arakanese in Excel or PDF format.
Details of the Arakanese and pronunciation supplied by Wolfram Siegel
Links
Information about Arakanese
https://en.wikipedia.org/wiki/Arakanese_language
http://www.ethnologue.com/language/rki
https://viss.wordpress.com/2007/07/02/the-arakanese-dialect/
Tibeto-Burman languages
Achang, Arakanese, Balti, Bantawa, Bisu, Burmese, Dzongkha, Garo, Hajong, Hmar, Karen, Kayah Li, Ladakhi, Lahu, Lepcha, Limbu, Lisu, Manipuri, Marma, Mro, Naxi, Nepal Bhasa / Newari, Sikkimese, Sunuwar, Tibetan, Tshangla, Tujia, Yi