Mro
Mro is a Tibeto-Burman language spoken by about 22,000 people mainly in Bandarban District of the Chittagong Hill Tracts in Bangladesh. It is also spoken in Sittwe (Akiab) in Rakhine State in Burma. Mro speakers live mainly in forest areas of Lama, Ruma, Alikaram and Thanchi near Chimbuk Mountain of Bandarban District. A small number also live in Rangamati Hill District.
The language is also known as Mru, which means 'human', and the people who speak it called themselves Mro-cha ('human beings'). Other tribes in the areas where the Mro live call them Murong ('strangers').
Mro alphabet
The Mro alphabet was created during the 1980s by Menlay Murang, or Manley Mro, a Mro who believed the creation of the alphabet was a redemption for a catastrophe told in Mro legend. The legend talks of the god Turai writing down a script and religion for the Mro people in a book and giving it to a cow to deliver. Unfortunately the cow became hungry on the long journey to earth and ate the book. Thus knowledge of the script was lost.
Around 80% of the Mro are thought to be literate in their own script, and it is taught in schools for the first 3 grades of primary education.
Notable features
Type of writing system: alphabet
Dirction of writing: left to right in horizontal lines
Used to write: Mru/Mro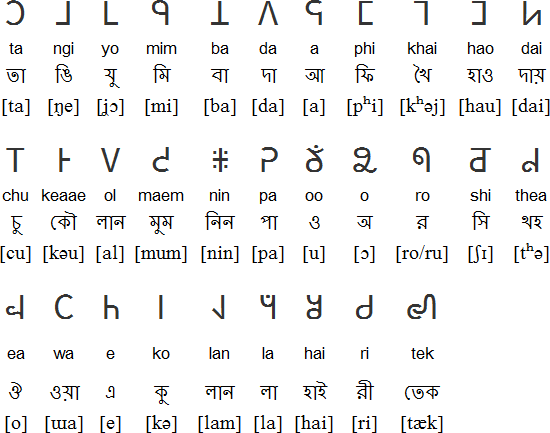 The Mro alphabet is shown with the names of the letters in the Roman alphabet, in the Bengali script, and transcribed in the IPA.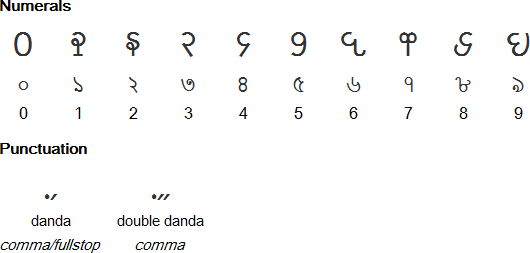 Download the Mro alphabet chart (Excel)
Sample words in Mro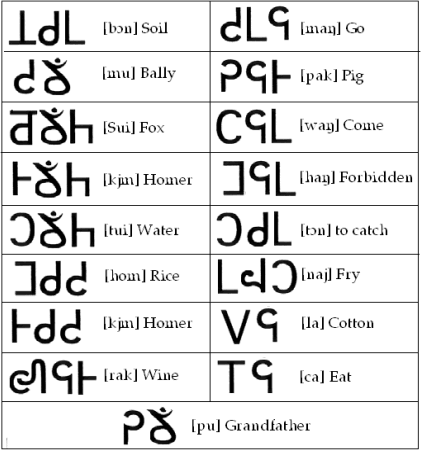 Source: http://www.banglajol.info/index.php/DUJL/article/download/4149/3443
Sample text in Mro

Links
Information about Mro
http://en.wikipedia.org/wiki/Mru_language
http://www.ethnologue.com/language/mro
http://scriptsource.org/cms/scripts/page.php?item_id=script_detail&key=Mroo
http://std.dkuug.dk/jtc1/sc2/wg2/docs/n3589.pdf
Mro font
http://phjamr.github.io/mro.html
Tibeto-Burman languages
Achang, Arakanese, Balti, Bantawa, Bisu, Burmese, Dzongkha, Garo, Hajong, Hmar, Karen, Kayah Li, Ladakhi, Lahu, Lepcha, Limbu, Lisu, Manipuri, Marma, Mro, Naxi, Nepal Bhasa / Newari, Sikkimese, Sunuwar, Tibetan, Tshangla, Tujia, Yi