Assiniboine (Nakoda)
Assiniboine is a Siouan language spoken in Southern Saskatchewan in Canada and Montana in the United States by about 150 people. Assiniboine, which is also known as Nakoda or Hohe, is a variety of Dakotan Sioux and is closely related to Stoney (Nakoda), which is also known as Alberta Assiniboine. However the two languages have only limited mutual intelligibility.
There are several ways of writing Assiniboine, mainly using the Latin alphabet, but some Assiniboine speakers apparently use syllabics.
Assiniboine alphabets and pronunciation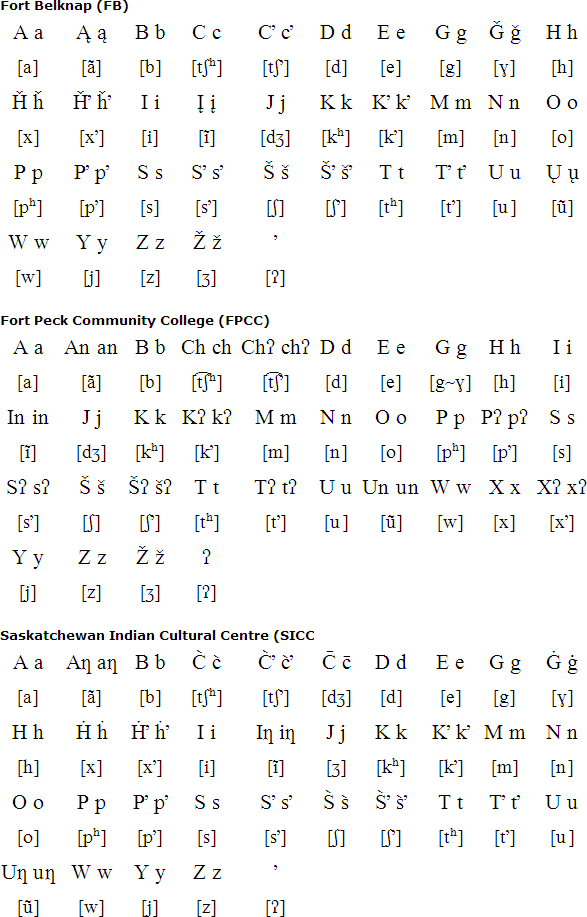 Download an alphabet chart for Assiniboine (Excel)
Sample text
Into gan tiwichoda tibi. Tiwichoda duka wanzhinna hunga cha witanga oti, hunshta. Chunwintku num wikoshkebi hunshta. Zhecha shunga-shana hanyakena hiyaya hunshta. Zhe duwa yuza shten chunwintku nunpin kʔu kta geya hunshta. Zhechen hanyakena koshka kin iyuhana giktabi. Kuwabi hunshta. Kuwabi kesh duweni yuzesh. Zhechi ihange ekta wanganganna wanzhin tagozhakpagu hokshina gichi ti.
Alphabets and sample text supplied by Michael Peter Füstumum
Source: http://www.languagegeek.com/siouan/nakoda_assiniboine_story.html
Information about Assiniboine | Numbers in Assiniboine
Links
Information about Assiniboine
https://en.wikipedia.org/wiki/Assiniboine_language
https://fr.wikipedia.org/wiki/Assiniboine_(langue)
http://www.ethnologue.com/language/asb
http://www.languagegeek.com/siouan/nakoda_assiniboine.html
Siouan languages
Assiniboine, Biloxi, Chiwere, Crow, Dakota, Lakota, Omaha, Osage, Stoney, Winnebago / Ho-Chunk
Other languages written with the Latin alphabet