Crow (Apsáalooke aliláau)
Crow is a Siouan language spoken in southeastern Montana in the USA by about 4,350 people. It is closely related to Hidatsa, a Siouan language spoken in North and South Dakota. These two languages belong to the Missouri Valley branch of Siouan languages.
The majority of of Crow speakers are over 60 years old, though there are some younger speakers, and many of the younger generation can understand the language, even if they cannot speak it.
Crow alphabet and pronunciation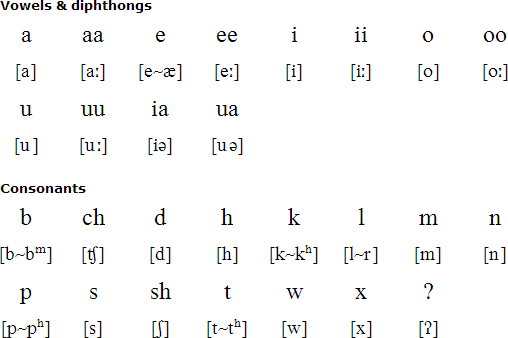 Notes
The glottal stop is also written with an apostrophe.
Tones are marked as follows: a or aa = low tone, á or áá = high tone and áa = falling tone.
Double consonants are pronounced with double length.
Sample text in Crow (Lord's Prayer)
Min-upguá akmakukuré danashé izshíu, andibabazéze máre hîi, ba-an-da-nas'-dó-díu makukuré, arakóte amé áken kuh marakotîi. Maré mapam-barú sua hinné mapé mirikiú míru baskotáo arakavirét bavíavuk, Dih maré arakiverétta mirikiú: arakavía maré diazíssa, bagavía gagúá maré hizíssa. Kótak.
Translation
Our father, which art in heaven, hallowed be thy name. Thy kingdom come. Thy will be done on earth as it is in heaven. Give us this day our daily bread. And forgive us our debts, as we forgive our debtors. And lead us not into temptation, but deliver us from evil. For thine is the kingdom and the power and the glory for ever and ever. Amen.
Source: http://www.language-museum.com/encyclopedia/c/crow.php
Information about Crow | Crow numbers
Links
Information about the Crow language
http://en.wikipedia.org/wiki/Crow_language
http://www.native-languages.org/crow.htm
http://www.ourmothertongues.org/language/Crow/3
http://billingsgazette.com/news/state-and-regional/montana/crow-tribe-gets-language-immersion-grant/article_3730b364-b6f8-5d84-ac7f-ad9267888569.html
Siouan languages
Assiniboine, Biloxi, Chiwere, Crow, Dakota, Lakota, Omaha, Osage, Stoney, Winnebago / Ho-Chunk
Other languages written with the Latin alphabet