Stoney (Nakoda)
Stoney is a variety of Dakota Siouan spoken in Alberta in Canada by about 3,000 people. It is also known as Alberta Assiniboine and is closely related to, though barely mutually intelligible with, Assiniboine.
Stoney alphabets and pronunciation
There are several different ways to write Stoney with the Latin alphabet.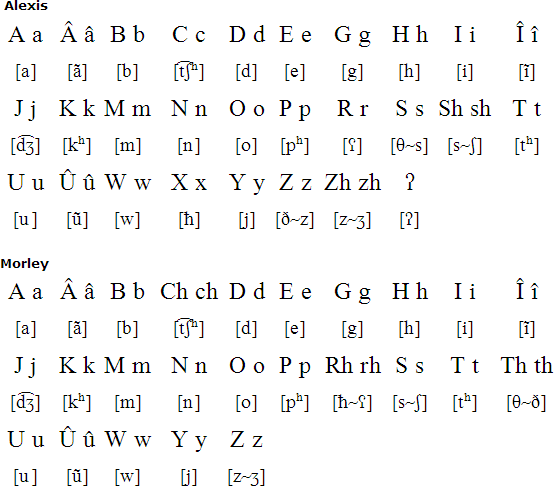 Sample text
Wîjan âba wazhi en, Îktomnî câgunâ ca opa ya ûshtac. Mâni ye zhe ecen wopaxtahiya hâc. Tehân manîshîx, câ ohâ dagucagash nâxûhâc. Hececîhâ îto înâzhîhûnâ wopaxtagahâc. Dohâ basûpta hâc ne dagucagash nâxûke. Hececîhâ ne dagucagash nâxûke one hâc. Câgunâ ke opa, îhîcî xeyada câ ohâ, wone ya ûshtac. Wone hiya cen, ne dagucagash nâxûke dagucazhe coyahâc. Îpanûwâbi cahâc nâxûzhe. Îpanûwâbi caniye cîhâ hoxniye îciya one hâc. Câgu opeke tehâshîx tatâga pahuhu sheja ca câgu îjaxtax îgahâc. Zhehâ, Îktomnî tatâga pahuhu sheja ke îjaxtax hiya hâduk îpanûwâbi ke waxmân îgabihâc.
Alphabets and sample text supplied by Michael Peter Füstumum
Source: http://www.languagegeek.com/siouan/nakoda_stoney_story.html
Links
Information about Stoney
https://en.wikipedia.org/wiki/Stoney_language
http://www.ethnologue.com/language/sto
http://www.native-languages.org/stoney.htm
http://www.rockymountainnakoda.com/language-introduction
http://www.languagegeek.com/siouan/nakoda_stoney.html
Siouan languages
Assiniboine, Biloxi, Chiwere, Crow, Dakota, Lakota, Omaha, Osage, Stoney, Winnebago / Ho-Chunk
Other languages written with the Latin alphabet