Tagabawà
Tagabawà is a member of the Manobo subfamily of the Philippine branch of Malayo-Polynesian languages spoken in Davao City and Mount Apo in Mindanao in the Philippines. Tagabawà speakers call themselves Bagobo.
Tagabawà alphabet and pronunciation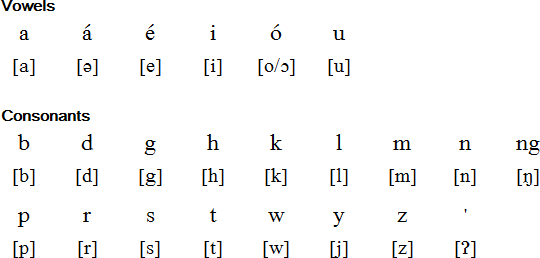 Sources: http://angtribu.com/lessons-tagabawa-phonemes/ and Tô Mga Manubù Na Ágpatóngkóé Katô Kinagiyan Ka Tagabawà. Tagabawà Phrase Book. Summer Institute of Linguistics, Inc. Translators -1998.
Information compiled by Wolfgang Kuhl
Sample phrases in Tagabawà
Madiggr sil-lm kaneko = Good morning
Madiggr mappon kaneko = Good afternoon
Madiggr dukil-lm kaneko = Good evening
Andin ngadan no? = What is your name?
Manda ka? = Where are you going?
Source: http://angtribu.com/bagobo-lessons-101-common-bagobo-sentences/
Information about Tagabawa | Tagabawa numbers | Tower of Babel in Tagabawa
Links
Information about the Tagabawà alphabet and languages
http://en.wikipedia.org/wiki/Tagabawà_language
http://www.ethnologue.com/language/bgs
http://angtribu.com/category/educatio_and_research/
Philippine languages
Other languages written with the Latin alphabet