Fiji Hindi (Hindustani / Fiji Baat / फिजी बात)
Fiji Hindi is an Indo-Aryan language descended from Awadhi and spoken mainly in Fiji by about 400,000 people. The ancestors of today's Fiji Hindi speakers came to Fiji as indentured labourers in the late 19th and early 20th centuries. They spoke a variety of languages from north and south India, and a lingua franca known as Fiji Baat (फिजी बात) emerged among them. This became Fiji Hindi, which is also known as Hindustani, and which contains vocabulary and influences from Awadhi, Bhojpuri, Bihari languages, Fijian and English.
Fiji Hindi is spoken mainly in Fiji, but there are also speakers in Canada, Australia, New Zealand, the UK and the USA. In parts of Fiji with large Indo-Fijian communities the Fijian can understand Fiji Hindi, and some can speak it.
Fiji Hindi is used to some extent in literature, and there is a translation of the Bible in it. It is written with the Latin and Devanagari scripts.
Fiji Hindi alphabet and pronunciation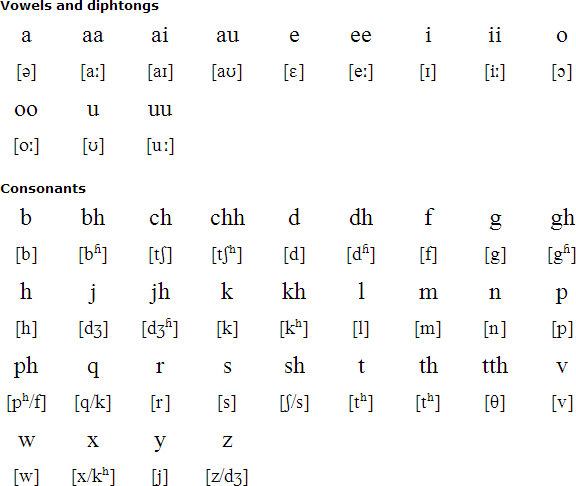 Notes
[pʰ], [q], [ʃ], [x] and [z] tend to be pronounced [f], [k], [s], [kʰ] and [dʒ] respectively.
Source: https://hif.wikipedia.org/wiki/Fiji_Hindi_phonology
Sample text (Lord's prayer)
Ee hamaar Pita tum jon swarag me hae,
tumhaar naam pawitr maana jaawe,
tumhaar raaj aawe,
aur tumhaar ichchha jaise swarag men puura hoy hae
weisahiyen dharti me bhi hoy.
Aaj ke khatir hamme khaana do.
Hamaar galti ke maaf karo,
jaise ham bhi aapan apraadhi log ke maaf kara hae.
Hamaar test nai lo lekin ham ke buraai se bachaana.
Information about Fiji Hindi pronunciation and sample text provided by Michael Peter Füstumum
Information about Fiji Hindi | Tower of Babel in Fiji Hindi |
Links
Information about Fiji Hindi
https://en.wikipedia.org/wiki/Fiji_Hindi
https://www.ethnologue.com/language/hif
https://en.wikiversity.org/wiki/Fiji_Hindi
href="http://fijiguide.com/page/the-language
Fiji Hindi dictionary
http://www.oocities.org/fijihindi/FijiHindiEnglishDict.htm
Indo-Aryan languages
Awadhi, Assamese, Bengali, Bhojpuri, Chakma, Dhivehi, Fiji Hindi, Gujarati, Hajong, Hindi, Kashmiri, Konkani, Kotia, Kutchi, Magahi, Maithili, Marathi, Marwari, Modi, Nepali, Odia, Palula, Punjabi, Rajasthani, Rohingya, Romani, Saraiki, Sarnámi Hindustani, Sindhi, Sinhala, Shina, Sourashtra, Sugali, Sylheti, Urdu
Languages written with the Latin alphabet