Hindi (हिन्दी)
Hindi is an Indo-Aryan language with about 487 million speakers. It is one of the official languages of India and is the main language used in the northern states of Rajasthan, Delhi, Haryana, Uttarakhand, Uttar Pradesh, Madhya Pradesh, Chhattisgarh, Himachal Pradesh, Jharkhand and Bihar, and is spoken in much of north and central India alongside other languages such as Punjabi, Gujarati, Marathi or Bengali. In other parts of India, as well as in Nepal, Bangladesh and Pakistan, Hindi is understood. In Fiji people of Indian origin speak Hindi, and in some areas the Fijian people also speak it.
Hindi is closely related to Urdu, the main language of Pakistan, which is written with the Arabic script, and linguists consider Standard Hindi and Standard Urdu to be different formal registers both derived from the Khari Boli dialect, which is also known as Hindustani. Apart from the difference in writing systems, the other main difference between Hindi and Urdu is that Hindi contains more vocabulary from Sanskrit, while Urdu contains more vocabulary from Persian. At an informal spoken level there are few significant differences between Urdu and Hindi and they could be considered varieties a single language.
Hindi first started to be used in writing during the 4th century AD. It was originally written with the Brahmi script but since the 11th century AD it has been written with the Devanāgarī alphabet. The first printed book in Hindi was John Gilchrist's Grammar of the Hindoostanee Language which was published in 1796.
Devanāgarī alphabet for Hindi
Vowels (स्वर) and vowel diacritics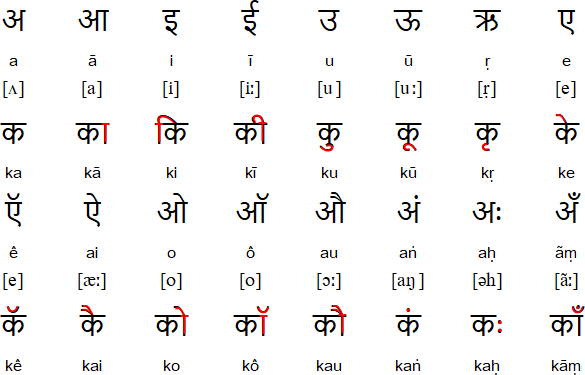 A recording of the Hindi vowels by मुहम्मद शकेब बेग (Mohammad Shakeb Baig) from भोपाल, भारत (Bhopal, India)
Consonants (व्यंजन)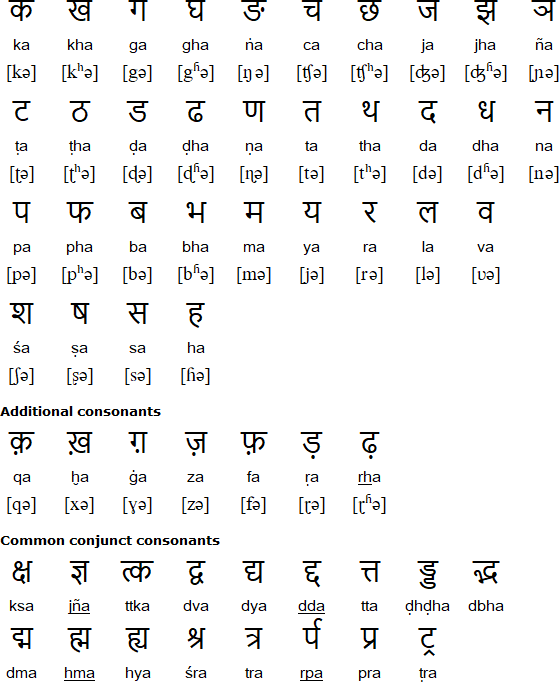 A recording of the Hindi consonants by मुहम्मद शकेब बेग (Mohammad Shakeb Baig) from भोपाल, भारत (Bhopal, India)
Numerals

Downloads
Sample text in Hindi
Transliteration
Sarbhī manuṣyōn̐ kō gaurav aur adhikārōn̐ kē māmalē mēn̐ janmajāt svatantratā aur samānatā prāpt hai. Unhēn̐ buddhi aur antarātmā kī dēn prāpt hai aur paraspar unēn̐ bhāīcārē kē bhāv sē bartāv karanā cāhiyē.
A recording of this text by Ganesh Deshmukh
A recording of this text by मुहम्मद शकेब बेग (Mohammad Shakeb Baig) from भोपाल, भारत (Bhopal, India)
Translation
All human beings are born free and equal in dignity and rights. They are endowed with reason and conscience and should act towards one another in a spirit of brotherhood.
(Article 1 of the Universal Declaration of Human Rights)
Thanks to Arvind Iyengar for providing the above sample text.
Information about Hindi | Hindi phrases | Hindi numbers | Tower of Babel in Hindi | Hindi learning materials | Electronic dicitonaries and translators for Hindi
Links
Hindi Translation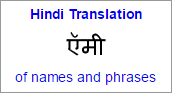 of names and phrases
Information about Hindi
http://en.wikipedia.org/wiki/Hindi
http://www.bbc.co.uk/languages/other/hindi/guide/facts.shtml
Online Hindi lessons
http://lrs.ed.uiuc.edu/Students/avatans/project.html
http://www.ispeakhindi.com
http://www.ncsu.edu/project/hindi_lessons/lessons.html
http://www.myhinditeacher.com
http://utopianvision.co.uk/hindi/
http://www.ukindia.com/zhin001.htm
http://learninghindi.tumblr.com
http://www.learn-hindi-online.com
http://www.hindimitra.com
http://www.mindurhindi.com
https://www.glovico.org/en/hindi
Learn Hindi online with Rocket Languages
Information about the Devanagari alphabet for Hindi
http://en.wikipedia.org/wiki/Devanagari
http://www.learning-hindi.com/post/1021543673/intro-3-devanagari-the-hindi-alphabet
https://sites.google.com/site/sarvabhashin/en/hi
http://www.avashy.com/hindiscripttutor.htm
http://www.youtube.com/watch?v=3J7-3CCOpi8
http://www.youtube.com/watch?v=oaPZE2JX5SY
Online Hindi grammar reference
http://hindilanguage.info
Online Hindi dictionaries
http://www.shabdkosh.com
http://dsal.uchicago.edu/dictionaries/platts/
http://www.tamilcube.com/res/hindi_dictionary.aspx
http://hindi-english.org

Devanagari fonts
http://www.wazu.jp/gallery/Fonts_Devanagari.html
http://www.kiranfont.com
http://www.devanagarifonts.net
http://www.sanskritweb.net/cakram/
Devanagari script tutor
http://www.avashy.com/hindiscripttutor.htm
Hindi transliterators
http://www.writeka.com
http://blog.syedgakbar.com/2010/02/06/hindi-to-english-and-hindi-to-urdu-transliteration/
http://girish.co.in/projects/dev/trans4.html
Hindi language and literature
http://www.cs.colostate.edu/~malaiya/hindiint.html
Web resources for learning Hindi
http://lrs.ed.uiuc.edu/Students/avatans/project.html
Hindi language resources, including dictionaries, grammar and useful phrases
http://www.hindilanguage.org
Online news in Hindi
http://www.bbc.co.uk/hindi/
http://hindi.samachar.com
http://navbharattimes.indiatimes.com
http://janoduniya.tv
Askalo - information about Indian cities from local people
http://www.askalo.in
Indo-Aryan languages
Awadhi, Assamese, Bengali, Bhojpuri, Chakma, Dhivehi, Gujarati, Hindi, Kashmiri, Konkani, Kotia, Kutchi, Maithili, Marathi, Marwari, Modi, Nepali, Oriya, Punjabi, Rajasthani, Romany, Saraiki, Sindhi, Sinhala, Sourashtra, Sugali, Sylheti, Urdu
Languages written with the Devanāgarī alphabet
Awadhi, Bhojpuri, Hindi, Kashmiri, Konkani, Kurukh, Maithili, Marathi, Marwari, Mundari, Nepal Bhasa / Newari, Nepali, Pali, Rajasthani, Sanskrit, Saraiki, Sindhi, Sunuwar, Sylheti