Gamilaraay
Gamilaraay is member of the Wiradhuric group of the Pama-Nyungan languages, and is spoken in New South Wales in Australia. The name of the language is also spelled Kamilaroi, Camilaroi, Kamalarai or Gamilaroi, and is pronounced [ɡ̊aˌmilaˈɻaːj].
The language was first documented with a basic word list collected by Major Thomas Mitchell in 1832. It was studied by William Ridley, a missionary, between 1852 and 1856.
In 2006 there were 35 speakers, all of whom spoke a mixture of Gamilaraay and English. The language is currently taught in a few pre-schools and primary schools.
Gamilaraay alphabet and pronunciation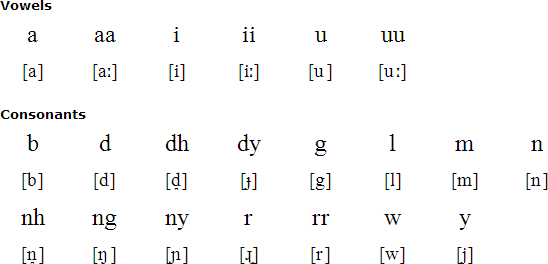 Download an alphabet chart for Gamilaraay (Excel)
Sample text - Bigibila wiyayl
Bigibila yanaawaanhi, biyaduul. Bulaarr badjin mindjarru yanaawaanhi. (Giirr yilaalu nhama mindjarru, bigibila dhayn gigilanhi.) Milandu mindjarrugu gayawiy barrandu nhama, dhinawan nhama. Giirr bundaanhi nhama dhinawan. Bamba ngaama bundaanhi. Bigibilagubala winangay, guwaay, "Aa, minya ngaama bundaanhi? Bamba nhama bundaanhi?"
Translation - The Porcupine's Quills
A porcupine was walking along by himself. Two little weebills were walking along. (A long time ago the weebills* and porcupines were people.) One weebill threw a boomerang at an emu. The emu fell down. It fell with a crash. The porcupine heard it, and he said: "Aa, what fell there?" It fell with a crash.
*Weebills are small birds about the size of a wren.
Source: http://www.yuwaalaraay.org/stories/bigibilaV2.html
Links
Information about Gamilaraay
https://en.wikipedia.org/wiki/Gamilaraay_language
http://www.yuwaalaraay.org/
http://www.hrelp.org/aboutus/staff/peter_austin/AustinGamil.pdf
http://www.dnathan.com/projects/gw/
http://www.ethnologue.com/language/kld
http://kamilaroianationsidentity.weebly.com/language.html
Gamilaraay dictionary
http://www.dnathan.com/language/gamilaraay/dictionary/GAMDICTF.HTM
Pama-Nyungan languages
Arrernte, Bundjalung, Gamilaraay, Gooniyandi, Gugadja, Kala Lagaw Ya, Kaurna, Murrinh-Patha, Ngiyambaa, Noongar, Paakantyi, Pitjantjatjara, Warlpiri, Wemba Wemba, Wik-Mungkan, Wiradjuri, Yindjibarndi, Yolngu
Other languages written with the Latin alphabet