Wik-Mungkan
Wik-Mungkan is an Australian language of the Paman group of the Pama-Nyungan language family spoken mainly at Aurukun on the west coast of Cape York Peninsula in the north of Queensland, Australia. The are about 400 native speakers of Wik-Mungkan, and a further 600 people who use is as a second language.
Wik-Mungkan is used in bilingual education in schools, a programme first introduced in 1973, then revived in 1993.
Wik-Mungkan pronunciation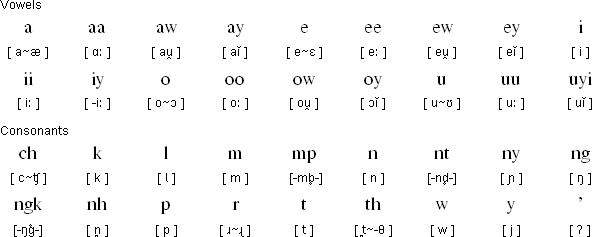 Transcriptions starting with a hyphen indicate that the letters appear only at the ends of words.
Information compiled by Wolfram Siegel
Links
Information about the Wik-Mungkan language
http://en.wikipedia.org/wiki/Wik-Mungkan
http://www.everyculture.com/Oceania/Wik-Mungkan-Orientation.html
Pama-Nyungan languages
Arrernte, Bundjalung, Gamilaraay, Gooniyandi, Gugadja, Kala Lagaw Ya, Kaurna, Murrinh-Patha, Ngiyambaa, Noongar, Paakantyi, Pitjantjatjara, Warlpiri, Wemba Wemba, Wik-Mungkan, Wiradjuri, Yindjibarndi, Yolngu
Other languages written with the Latin alphabet