Kikuyu (Gĩkũyũ)
Kikuyu is a Bantu language spoken mainly in the Central Province of Kenya by about 6.6 million people. The native name for the language is Gĩkũyũ [ɣēkōjó], and there are four mutually intelligible dialects known as Kirinyaga, Muranga, Nyeri and Kiambu.
Literature in Kikuyu includes essays, poetry, children's stories and translations by such as authors as Mwangi wa Mutahi, Gatua wa Mbugwa and Waithĩra wa Mbuthia
Kikuyu alphabet
Kikuyu is written with a version of the African reference alphabet, which was first proposed at a 1978 conference organised by UNESCO.

Kikuyu pronunciation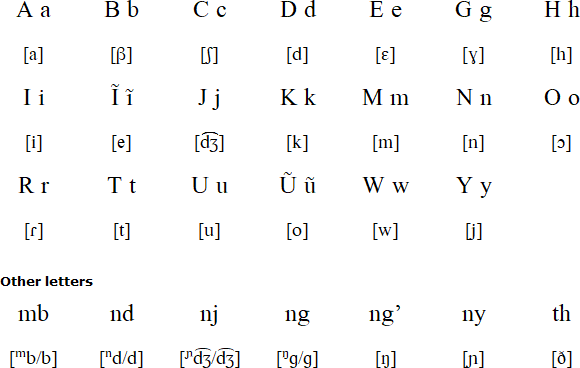 Tones
Kikuyu has two level tones (high and low), a low-high rising tone, and adownstep.
Sample text (John 1:1)
Kĩambĩrĩianĩ Ũhoro aarĩ o kuo, na aatũire harĩ Ngai, nake aarĩ o Ngai.
Translation
In the beginning was the Word, and the Word was with God, and the Word was God.
Sample video in Kikuyu
Information about Kikuyu | Tower of Babel in Kikuyu
Links
Information about the Kikuyu language
http://en.wikipedia.org/wiki/Gikuyu_language
http://emmanuelkariuki.hubpages.com/hub/The-Kikuyu-Language
http://aboutworldlanguages.com/kikuyu
http://www.ethnologue.com/language/kik
Bantu languages
Bemba, Chichewa, Comorian, Duala, Ewondo, Ganda/Luganda, Herero, Ikizu, Jita, Kikuyu, Kinyarwanda, Kirundi, Kongo, Lingala, Loma, Lozi, Makonde, Mandekan, Maore, Mende, Mushungulu, Nkore, Northern Ndebele (South Africa), Northern Ndebele (Zimbabwe), Northern Sotho, OshiWambo, Ronga, Sena, Shona, Soga, Southern Ndebele, Southern Sotho, Swahili, Swati, Tofa, Tshiluba, Tsonga, Tswana, Tumbuka, Umbundu, Venda, Xhosa, Yao, Zigula, Zinza, Zulu
Other languages written with the Latin alphabet