Kongo (Kikongo)
Kongo is a Bantu language spoken in the Democratic Republic of the Congo, the Republic of the Congo and Angola. The people who speak Kongo are known as Bakongo and Bandundu. Creolized versions of the language are used in rituals in Brazil, Cuba and Haiti, and Gullah, and Palenquero creole of Colmbia also contain Kongo elements. There are an estimated 6.5 million native speakers of Kongo (in 2012), and there are another 2 million who speak it as a second language.
In the Republic of the Congo the language is known as Kitubà, and in the Democratic Republic of the Congo it is called Kikongo. A creole based on Kongo is used in the same region, and is various known as Kikongo de L'état, Kikongo ya Leta, Kituba, Monokituba and Munukituba.
Kongo first appeared in writing in a catechism produced under the authority of Diogo Gomes during the 16th century. It was the first Bantu language to be written with the Latin alphabet. Other material in and about Kongo was published during the 17th century, including a grammar in 1645 and a dictionary in 1648. A complete translation of the Bible in 1905.
Today there is no standard way of writing Kongo, but the language is used in some literature, newspapers and other printed material.
Kongo pronunciation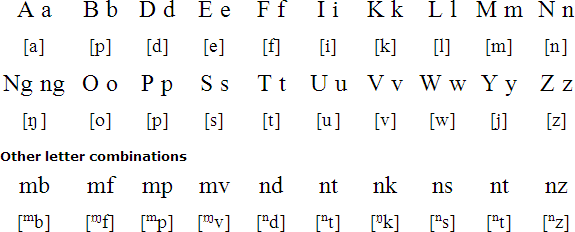 The function of the apostrophe in the sample text is not know.
Sample text
Ave Maria, uafulukua ye nsambu, o Mfumu se una, iaku. O nge vana ven'akento nkua nsambu yo malau ye mbongo a vumu kiaku Yezu. E Santa Maria, ngu andi a Nzambi, intuvingil'oieto asumuki, ouau ye muna utangu'a lufua lueto. Amen.
Source: https://en.wikipedia.org/wiki/Kongo_language
Links
Information about the Kongo language
https://en.wikipedia.org/wiki/Kongo_language
https://fr.wikipedia.org/wiki/Kikongo
https://www.ethnologue.com/language/kng
http://www.britannica.com/topic/Kikongo-Kituba
Bantu languages
Bemba, Chichewa, Comorian, Duala, Ewondo, Ganda/Luganda, Herero, Ikizu, Jita, Kikuyu, Kinyarwanda, Kirundi, Kongo, Lingala, Loma, Lozi, Makonde, Mandekan, Maore, Mende, Mushungulu, Nkore, Northern Ndebele (South Africa), Northern Ndebele (Zimbabwe), Northern Sotho, OshiWambo, Ronga, Sena, Shona, Soga, Southern Ndebele, Southern Sotho, Swahili, Swati, Tofa, Tshiluba, Tsonga, Tswana, Tumbuka, Umbundu, Venda, Xhosa, Yao, Zigula, Zinza, Zulu
Other languages written with the Latin alphabet