Oroshor (Rōšōrvī ziv)
Oroshor is a Pamir language spoken in the village of Roshorv and its environs in Gorno-Badakhshan Autonomous Province of Tajikisatan by about 2,400-3,000 people. It is usually considered a dialect of Shughni.
Oroshor is not usually written, but there is a way of writing it using the Latin alphabet for Shughni.
Oroshor alphabet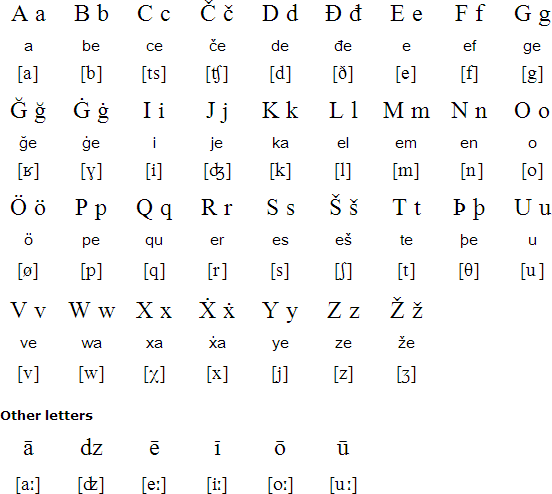 Download a chart of the Oroshor alphabet (PDF, in German)
Information about Oroshor provided by Wolfram Siegel
Information about Oroshor | Numbers in Oroshor
Links
Information about Oroshor
http://www.endangeredlanguages.com/lang/5866
http://www.ethnologue.com/language/sgh
Iranian languages
Avestan, Baluchi, Bartangi, Dari, Gilaki, Ishkashimi, Juhuri, Khufi, Kurdish, Luri, Mazandarani, Ossetian, Oroshor, Persian, Parthian, Pashto, Rushani, Sanglechi, Sarikoli, Shabaki, Shughni, Tajik, Talysh, Tat, Wakhi, Yaghnobi, Zazaki
Other languages written with the Latin alphabet