Welsh Braille
Welsh Braille is a version of Braille used to write Welsh. It uses most of the same letters as used in English Braille, with some doubled letters, but the words the letters can represent are different.
The Royal National Institute of Blind People (RNIB) Cymru in partnership with the Welsh Language Board publish publications in Welsh Braille, including a Welsh-English dictionary. There is also is version of the New Testament and Psalms in Welsh Braille, which was published in 2010.
Welsh Braille / Côd Braille Cymraeg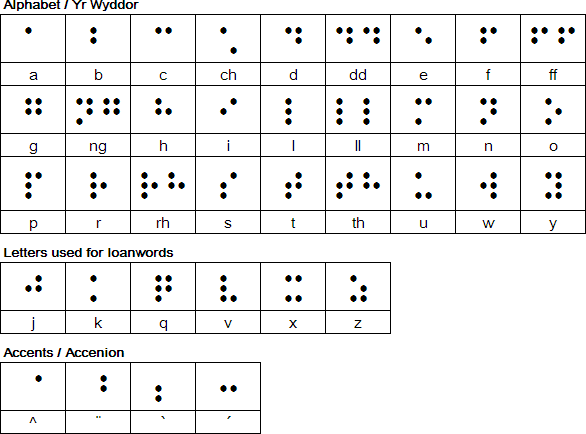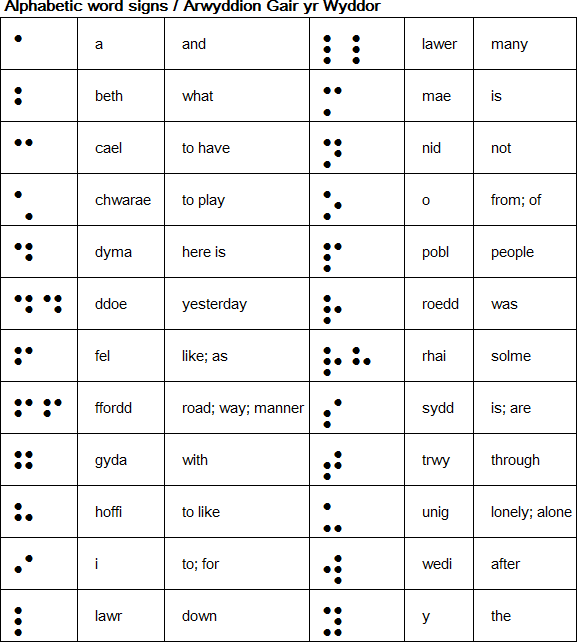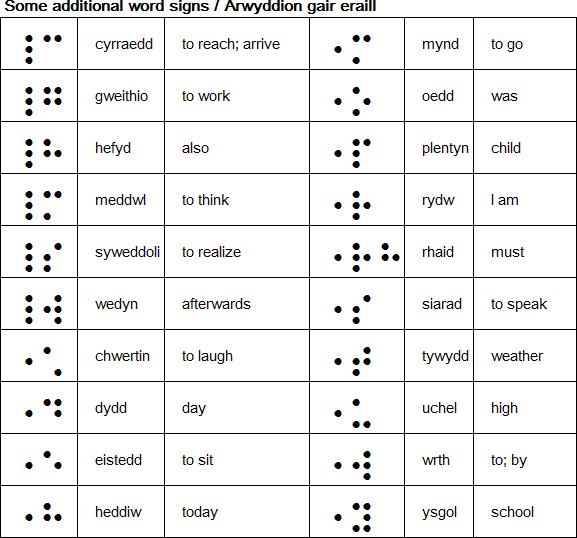 Sample texts in Braille

Tranliteration
Genir pawb yn rhydd ac yn gydradd â'i gilydd mewn urddas a hawliau. Fe'u cynysgaeddir â rheswm a chydwybod, a dylai pawb ymddwyn y naill at y llall mewn ysbryd cymodlon.
Translation
All human beings are born free and equal in dignity and rights. They are endowed with reason and conscience and should act towards one another in a spirit of brotherhood.
Links
Details of specialist versions of Braille, including Welsh Braille
http://www.rnib.org.uk/livingwithsightloss/readingwriting/braille/braille/codes/Pages/specialist_braille.aspx
Côd Braille Cymraeg - details of Welsh Braille (in Welsh)
http://www.ukaaf.org/bauk-site/docs/welshw.pdf
Other Welsh pages (Tudalennau Cymraeg eraill)
Information about Welsh | Phrases | Numbers | Kinship terms | Terms of endearment | Idioms | Time | Weather | Tongue twisters | Songs | Tower of Babel | Braille for Welsh | Links | Learning materials
Versions of Braille
Braille for Chinese (Mandarin & Cantonese), Braille for English, Braille for Latin & Greek, Braille for Welsh
Other notation systems
Blissymbolics, Braille, Graffiti, Moon, Shorthand, Solresol, Sutton SignWriting