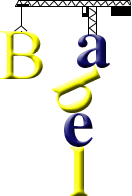 The Tower of Babel (Genesis 11: 1-9)
Føroyskt (Faroese)
1961 version
Og øll mannaættin hevði eitt mál og somu tungu.
Men tá ið teir nú løgdu leiðina eystureftir, komu teir fram á ein slætta í Sinears landi og settust niður har.
Tá søgdu teir hvør við annan: "Komið og latum okkum knoða tigulsteinar og herða teir væl í eldi." Soleiðis nýttu teir tigul í staðin fyri grót og jarðbik í staðin fyri káll.
Og teir søgdu: "Vit skulu byggja okkum borg og torn, hvørs tindur røkkur til himins og gera okkum navnframar, so at vit ikki spjaðast um alla jørðina!"
Men Harrin steig oman til tess at síggja borgina og tornið, sum mannabørnini fingust við at byggja.
Og Harrin mælti: "Sí, teir eru ein tjóð og hava allir sama tungumál; hetta er fyrsta fyritøka teirra; og nú man neyvan nakað verða teimum óført, sum teir finna upp á at gera.
Komið tí og latum okkum stíga oman og fløkja tungumál teirra, so at teir ikki skilja málið, hvør hjá øðrum."
Tá spjaddi Harrin teir haðan út um alla jørðina, so at teir lættu av at byggja borgina.
Tessvegna eitur hon Bábel, tí at har fløkti Harrin øll tungumál jarðar; og haðan spjaddi Harrin tey út um alla jørðina.
Plymouth Brethren bible (1948)
Øll jørðin hevði sama tungumál og tosaði líka.
Sum teir nú ferðaðust eystureftir, komu teir til dal í Sinearslandi og búsettust har.
Tá søgdu teir hvør við annan: "Komið, latið okkum gera tigulstein og brenna hann væl!" - Teir brúktu tigulstein í staðin fyri grót og jarðbik í staðin fyri kálk.
So søgdu teir: "Komið, latið okkum byggja okkum bý, og torn, sum røkkur heilt upp til himmals - latið okkum soleiðis gera okkum navn, so vit skulu ikki verða spjaddir um alla jørðina!"
Men HARRIN kom niður at síggja býin og tornið, ið menniskjabørnini vóru farin at byggja;
og HARRIN segði: "Teir eru jú eitt og sama fólk, og eitt og sama tungumál hava teir allir; hetta er tað fyrsta, ið teir eru farnir undir at gera, og nú verður einki teimum óført, hvat teir so seta sær fyri!
Latið Okkum tí fara niður og blanda tungumál teirra, so teir skilja ikki málið hvør hjá øðrum!"
Soleiðis spjaddi HARRIN teir haðani út um alla jørðina, og teir góvu uppat at byggja býin.
Tí fekk hann navnið Bábel; tí har blandaði HARRIN tungumálini á allari jørðini; og haðani spjaddi HARRIN teir út um alla jørðina.
Information about Faroese | Phrases | Numbers | Family words | Tower of Babel
Tower of Babel in Germanic languages
Afrikaans, Alsatian, Anglo-Saxon / Old English, Bavarian, Danish, Dutch, English, Faroese, Frisian, German, Gothic, Gronings, Icelandic, Low Saxon / Low German, Norwegian, Palatine German, Pennsylvania German, Swabian, Swedish, Swiss German, Värmlandic, Yiddish
Other Tower of Babel translations
By language | By language family
---
If you need to type in many different languages, the Q International Keyboard can help. It enables you to type almost any language that uses the Latin, Cyrillic or Greek alphabets, and is free.
If you like this site and find it useful, you can support it by making a donation via PayPal or Patreon, or by contributing in other ways. Omniglot is how I make my living.
Note: all links on this site to Amazon.com
, Amazon.co.uk
and Amazon.fr
are affiliate links. This means I earn a commission if you click on any of them and buy something. So by clicking on these links you can help to support this site.