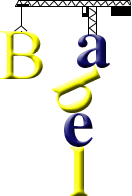 The Tower of Babel (Genesis 11: 1-9)
Schwyzerdütsch (Swiss German)
---
Baselbieterdütsch (Baseldeutsch)
Baselbieterdütsch is a dialect of Swiss German (Schwyzerdütsch) spoken in the canton of Basel in northern Switzerland.
Der Turm vo Babel
Es hot emol e Zyt gee, wo d Lüt uf der ganze Wält nummen ei Sproch gha hai. Alli hai enand verstande.
Si sy all wi mehr gegen Oschte zogen und hai im Land Sinear en Ebeni gfunden und sy dört blibe.
Si hai zuenenand gsait: «Chömmet, mer wai Ziegel machen us Lätt. Die tüeje mer derno brenne, dass si hert wärde.» Die Ziegel hai si as Stei bruucht, und mitem Asphalt hai si gmuuret.
Si hai si vorgnoh: «Jetz wai mer zeige, was mer chönne. Früsch druuflos, mir bouen e Stadt und e Turm, wo bis an Himmel uufe längt. So hai mer einisch es Dänkmol, öppis wonis berüemt macht und zämmehebt, dass mer is nit über di ganzi Wält verstreue.
Da isch der Herr abecho und het die Stadt agluegt, wo d Mönsche bout hai.
Der Herr het gsait: «Wie sell das nummen uusecho? Si sy eis Volk und hei alli die glychi Sproch, und das isch erscht der Afang vo däm, wo si chönne mache. Wenn dene das grotet, dänke si: Vo jetz a bringe mer alles fertig, wo mer eus in Chopf setze. Dene wai mer d Zügel azieh.
Mer machen ihri Sproch zunderobsi, dass kein meh verstoht, was der ander meint.
Däwäg sy si usenand cho und hai si verstreut über die ganzi Ärde. Si hais müesen uufgee, die Stadt z boue.
Drum heisst dä Ort «Babel»*, wil der Herr dört d Sproch vo alle Mönsche zunderobsi gmacht und die Lüt über die ganzi Wält verstreut het.
*«Babel » tönt uf hebräisch wie «durenand» oder «zunderobsi».
Source: Usem Alte Teschtamänt. Der guet Bricht us der Biblen uf Baselbieterdütsch, 1981.
---
Bärndütsch (Berndeutsch)
Bärndütsch is a dialect of Swiss German spoken in the canton on Bern in central Switzerland.
Der Turmbou z Babel
Alli Mönsche hei denn di glychi Sprach gredt und di glyche Wort bbruucht.
Wo si vom Oschte här ufbbroche sy, hei si en Äbeni im Land Schinar gfunde und sech dert gesädlet.
Du hei si zunenand gseit: «Loset, mir wei jitz Ziegle stäche und brönne!» Di Ziegle hei si als Bousteine chönne bruuche und der Asphalt als Pflaschter.
Du hei sy gseit: «Chömet, mir wei e Stadt boue und e Turm, wo mit sym Spitz bis i Himel ufe reckt. So boue mir üüs es Wahrzeiche, dass mer is nid über di ganzi Wält verzattere.»
Da isch der Herr nidsi gfahre, für di Stadt und dä Turm aazluege, wo d Mönsche bbouet hei.
Und der Herr het gseit: «Lue, si sy zämethaft eis Volk und hei alli zäme ei Sprach; und das isch ersch der Aafang, wo si zstandbringe; gly isch ne nüüt meh unmüglech, si chöi sech i Chopf setze, was si nume wei!
Wolle, jitz fahren i nidsi und verhürsche ne d Sprach, dass kene meh nachechunt, was der andere seit.»
So het der Herr sen über di ganze Ärde verzatteret, und si hei ufghört bouen a irer Stadt.
Drum heisst der Name vo där Stadt Babel, wil der Herr dert d Sprach vo allne Lüt verhürschet und sen über di ganzi Ärde verzatteret het.
Source: Ds Alte Teschtamänt bärndütsch en Uswahl, 1990.
Contributed by Wolfgang Kuhl
Information about Baseldeutsch and Berndeutsch
http://de.wikipedia.org/wiki/Baseldeutsch http://de.wikipedia.org/wiki/Berndeutsch
Information about Swiss German | Phrases | Numbers | Tower of Babel | Learning materials
Learn Swiss German Online / Schweizerdeutsch lernen online
Tower of Babel in Germanic languages
Afrikaans, Alsatian, Anglo-Saxon / Old English, Bavarian, Danish, Dutch, English, Faroese, Frisian, German, Gothic, Gronings, Icelandic, Low Saxon / Low German, Norwegian, Palatine German, Pennsylvania German, Swabian, Swedish, Swiss German, Värmlandic, Yiddish
Other Tower of Babel translations
By language | By language family
---
If you need to type in many different languages, the Q International Keyboard can help. It enables you to type almost any language that uses the Latin, Cyrillic or Greek alphabets, and is free.
If you like this site and find it useful, you can support it by making a donation via PayPal or Patreon, or by contributing in other ways. Omniglot is how I make my living.
Note: all links on this site to Amazon.com
, Amazon.co.uk
and Amazon.fr
are affiliate links. This means I earn a commission if you click on any of them and buy something. So by clicking on these links you can help to support this site.