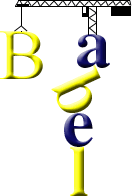 The Tower of Babel (Genesis 11: 1-9)
Grunnegs / Grönnegs (Gronings)
Boabel
Haile wereld was ain van toal en sproak.
Dou ze noar t oosten trokken, vonden ze n vlakte in t laand Sinear, doar ze wonen gingen.
Ze zeden tegen mekoar: "Loat we stainen dreugen en tiggeln." Veur t baauwen bruukten ze bakstain en asfalt as spezie.
Dou zeden ze: "Komt, loat wie ons n stad baauwen mit n toren doar top van in hemel stekt. Loat wie ons n noam moaken, dat wie nait over haile wereld verspraaid worden."
Dou kwam de HEER omdeel om stad en toren te zain doar mensken mit aan t baauwen wazzen.
De HEER zee: "Kiek, t is ain volk mit ain toal. Dit is t begun nog mor. Aanstonds zel heur niks meer onmeugelk wezen.
Dat, loat Wie omdeel goan en heur toal in toeze brengen, dat zai mekoar nait meer verstoan kinnen."
Zo muik de HEER dat ze oet nkander gingen over haile wereld en ze huilen op mit baauwen van stad.
Doarom nuimden ze stad: Boabel, omreden de HEER het doar toal van haile eerde in toeze brocht en mensken vandoar oet, over haile wereld verstreud.
Source: http://www.liudger.org/nl/indexbiebel.html
Contributed by Wolfgang Kuhl
Gronings is collection of Friso-Saxon dialects spoken in the province of Groningen and around the Groningen border in Drenthe and Friesland in the Netherlands.
More information about Gronings
http://en.wikipedia.org/wiki/Gronings
http://www.ethnologue.org/language/gos
Tower of Babel in Germanic languages
Afrikaans, Alsatian, Anglo-Saxon / Old English, Bavarian, Danish, Dutch, English, Faroese, Frisian, German, Gothic, Gronings, Icelandic, Low Saxon / Low German, Norwegian, Palatine German, Pennsylvania German, Swabian, Swedish, Swiss German, Yiddish
Other Tower of Babel translations
By language | By language family