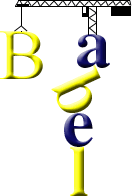 The Tower of Babel (Genesis 11: 1-9)
Pfälzisch (Palatine German)
De Turmbau in Babel
Die Sintflut war jo fer die Mensche ä ? schlimmi Sach. Awwer die Mensche henn schunn sellemols net viel dazugelernt. Des war wie heit aa ?. Net lang nooch de Sintflut sinn die Leit vun dere große Stadt Babel uf die Idee kumme, än Turm zu baue, der so hoch wird, dass se zu Gott nufkrawwele kennen. Un se henn den Turm immer heecher un heecher gemacht. Des hot awwer Gott iwwerhaupt net g'falle. Uf ämol hot's gescheppert. Do hot Gott dene Babylonier ihrn Turm z'sammekrache losse. Un dann hot er alle Leit unnerschiedliche Sprooche gewwe, dass se sich unnernanner nimmi verstanne henn. Do henn die all ganz schee geguggt, was do jetzt bassiert war.
Des is bis uf de heitiche Daach so gebliwwe, dass die Mensche unnerschiedliche Sprooche henn. Wann des net bassiert wär, dann wär heit alles viel äfacher. Dann däden nämlich alle Leit uf dere Welt so babble wie mir.
Source: Bibel uf Pälzisch. Biblische Geschichten in Pfälzer Mundart, 2004.
Contributed by Wolfgang Kuhl
Palatine German is a West Franconian dialect of German spoken in the Rhine Valley in Germany.
More information about Palatine German
http://en.wikipedia.org/wiki/Palatine_German_language
http://www.ethnologue.com/language/pfl
Tower of Babel in Germanic languages
Afrikaans, Alsatian, Anglo-Saxon / Old English, Bavarian, Danish, Dutch, English, Faroese, Frisian, German, Gothic, Gronings, Icelandic, Low Saxon / Low German, Norwegian, Palatine German, Pennsylvania German, Swabian, Swedish, Swiss German, Yiddish
Other Tower of Babel translations
By language | By language family