Welsh Arabic (
وٙذٛر گٙمرَێگ اَرَبٜگ

)

The Welsh Arabic alphabet was devised by Michael Peter Füstumum as he thinks it will be a future alphabet for Welsh, because of the growth of muslim population in Britain and the rest of Europe.
Welsh Arabic alphabet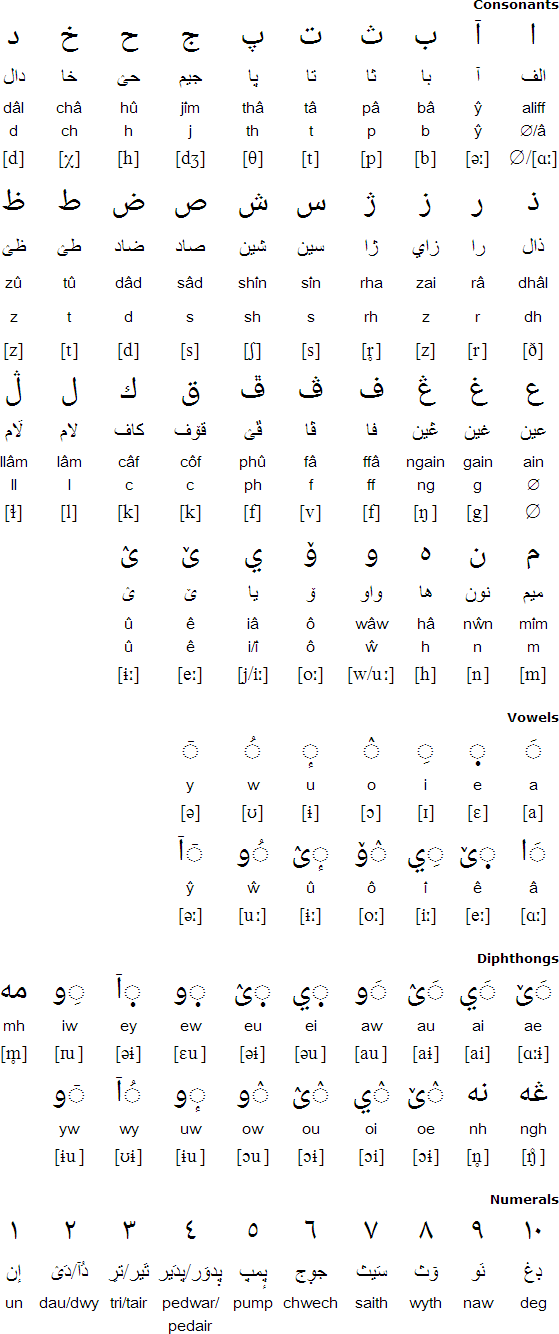 ح, ز, ص, ض, ط, ظ, ع and ق are only used in Arabic loanwords.
Sample text Welsh Arabic
غٜنِر پَوب اٙن ژٙذ اَك اٙن غٙدرَذ آاِ غِلٙذ مٜون إرذَس اَ هوليؽ. ڤٜإ كٙنٙسغَاٜذِر آ ژٜسُم اَ كهٙدوٙبٛد, اَ دٙلي پوب اٙمذوٙن اٙ نيڷ اَت اٙ ڷَڷ مٜون اٙسبرٙد كٙمٛدلٛن.
Standard Welsh version
Genir pawb yn rhydd ac yn gydradd â'i gilydd mewn urddas a hawliau. Fe'u cynysgaeddir â rheswm a chydwybod, a dylai pawb ymddwyn y naill at y llall mewn ysbryd cymodlon.
Translation
All human beings are born free and equal in dignity and rights. They are endowed with reason and conscience and should act towards one another in a spirit of brotherhood.
(Article 1 of the Universal Declaration of Human Rights)
Other adaptations of alphabets
Welsh pages (Tudalennau Cymraeg)
Information about Welsh | Phrases | Numbers | Kinship terms | Terms of endearment | Idioms | Time | Weather | Tongue twisters | Songs | Tower of Babel | Braille for Welsh | Links | Learning materials