Adzera
Adzera is a Malayo-Polynesian language spoken in Morobe Province of Papua New Guinea by about 30,000 people. The name of the language is also written Atzera, Azera, Atsera or Acira.
Adzera alphabet and pronunciation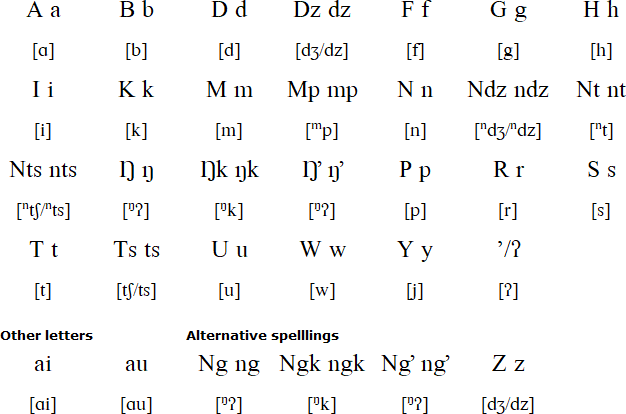 Notes
The diphthongs /ɑi/ and /ɑu/ occur, while other sequences of vowels are split over two syllables
/h/ is only used in the interjection hai (yes)
The prenasalized consonants tend to lose prenasalization initially and after consonants
/tʃ/ and /ⁿtʃ/ are sometimes realized as /ts/ and /ⁿts/, especially in codas.
Download an Adzera alphabet chart (Excel)
Information about Adzera | Tower of Babel in Adzera
Links
Information about Adzera
https://en.wikipedia.org/wiki/Adzera_language
http://www.ethnologue.com/language/adz
Malayo-Polynesian languages
Other languages written with the Latin alphabet