Maskelynes (Kuliviu)
Maskelynes is a member of the Oceanic branch of the Malayo-Polynesian language family spoken on the Maskelyne Islets off south Malekula in Vanuatu by about 1,300 to 1,400 people in 2013. It is spoken mainly in the villages of Pelog, Lohvari and Lutes. There are also Maskelynes speakers in Luganville on Espiritu Santo, and in Port Vila on Efate.
Maskelynes is closely related to Axamb, Burmbar and Port Sandwich, which are spoken nearby.
Maskelynes alphabet and pronunciation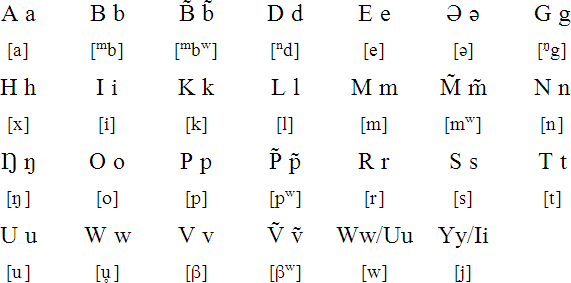 Download a Maskelynes alphabet chart (Excel)
Sample text in Maskelynes (The Lord's Prayer)
ATǝmanamito len nǝmav, nahǝsam̃ tiyalyal tabtab. Gegǝmai hǝn nǝvanuan p̃isi lǝb̃itoh pipihabǝlam̃, Nǝsa gotolǝŋoni m̃au tevisi, len navile a pan hum ŋai tovisi len nǝmav. Viol hǝn nǝhanian husur nǝboŋ ṽisusua mai ginamito, Rub̃at nǝsaan sinamit gail, sum̃an ŋai namttorub̃at nǝsaan silat lotogole hǝn ginamito. Sagidam̃ hǝn natideh hǝn b̃italtal ke namtigol nǝsaan, be lav kuv ginamito dan navǝlan atenan tosa vǝsa masuṽ, tovi tǝmat.
Source: Na-kel-gati-an Veveu. Nasoruan siGot len nasoruan ta Uluveu. Niutestamen long Maskilin, lanwis blong Uluveu Aelan, Vanuatu. The New Testament in Maskelynes of Uluveu Island, Vanuatu. Wycliffe Bible Translators, Inc. 2013.
Sample text supplied by Wolfgang Kuhl
Information about Maskelynes | Maskelynes numbers
Links
Information about Maskelynes
https://en.wikipedia.org/wiki/Maskelynes_language
http://www.ethnologue.com/18/language/klv
http://digilib.library.usp.ac.fj/gsdl/collect/usplibr1/index/assoc/HASH3017.dir/doc.pdf
Oceanic languages
Other languages written with the Latin alphabet