Tami
Tami is a Western Oceanic language spoken by about 2,100 people (in 2010) in Morobe Province in Papua New Guinea. Tami speakers live on the Tami Islands and in some villages on the Huon Peninsula.
Tami alphabet and pronunciation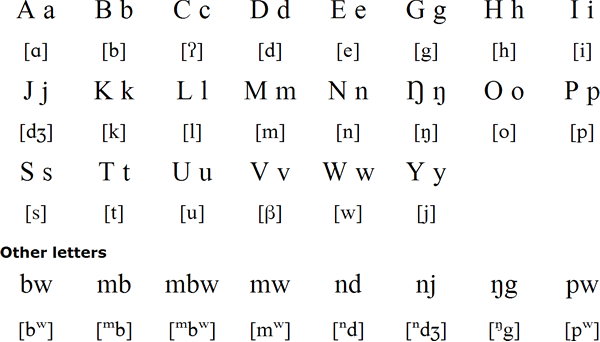 C is only used at the end of syllables.
Download a alphabet chart for Tami (Excel)
Sample text
Si kip tale lao siwop tomba ka simwa mala kandit ka ma siwop nen tomba ndefl mbufl tale. Ma Sibumtao ne aflgela tan lam waja pa sin. Ma Sibumtao sik ne kawiyawi flaneic lam njo sin.
Translation
At this time the watchmen of sheep were outside the village watching the sheep this night. And one of God's angels came and appeared to them. And God made a big light to shine on them.
Details of Tami supplied by Michael Peter Fustümum
Links
Information about Tami
https://en.wikipedia.org/wiki/Tami_language
http://www.ethnologue.com/18/language/tmy
http://www-01.sil.org/pacific/png/pubs/928474542454/Tami.pdf
Oceanic languages
Other languages written with the Latin alphabet